Paramount Theatre | Seattle, Washington
Cult superstar performer Amanda Palmer comes to Paramount Theatre Seattle on Friday 7th June 2019, performing from her brand new album, There Will Be No Intermission! The highly anticipated album is the artist's most personal to date, and the event will see Palmer dig deep into the recesses of her soul:
"There Will Be No Intermission is the multi-faceted artist's most powerful and personal collection to date, with songs that tackle the big questions: life, death, grief and how we make sense with it all. While the themes may be dark, the album's overall sonic and lyrical mood is one of triumph in the face of life's most ineffably shitty circumstances."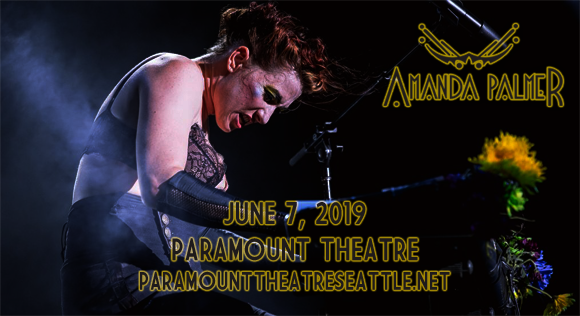 Amanda Palmer is a renowned singer and songwriter, as well as being the lead vocalist, pianist, and lyricist of the duo The Dresden Dolls, and previously one half of the duo Evelyn Evelyn, and the lead singer and songwriter of Amanda Palmer and the Grand Theft Orchestra. Palmer began her performance career busking as a living statue called "The Eight Foot Bride", which enabled her to travel the world. The Dresden Dolls formed at a Halloween party in 2000 and soon developed a cult following, releasing their eponymous debut album two years later. The duo's most recent album was released in 2008, but they continue to perform and tour sporadically. In 2006, Palmer conceived the musical/production The Onion Cellar (based on a short story from The Tin Drum by Günter Grass), and performed it as part of the Dresden Dolls in conjunction with the American Repertory Theater at the Zero Arrow Theatre in Cambridge, Massachusetts from December 9, 2006 through January 13, 2007. From 2007 – 2010 she performed as part of the duo Evelyn Evelyn, which released one EP and one album. Palmer's debut solo album, Who Killed Amanda Palmer? was produced by Ben Folds and released in 2008. Her third solo studio album, There Will Be No Intermission, is due for release in March 2019.