Paramount Theatre | Seattle, Washington
Japanese kawaii-metal band Babymetal will be performing at Paramount Theatre Seattle on Wednesday 16th October 2019 as part of their first ever headlining US tour, promoting their upcoming new album, Metal Galaxy! Known for their high-energy, densely choreographed live shows, where the lead performers are backed by the Kami Band, Babymetal are truly unique with their blend of the metal and J-pop idol genres! In support are Mongolian metal band The Hu!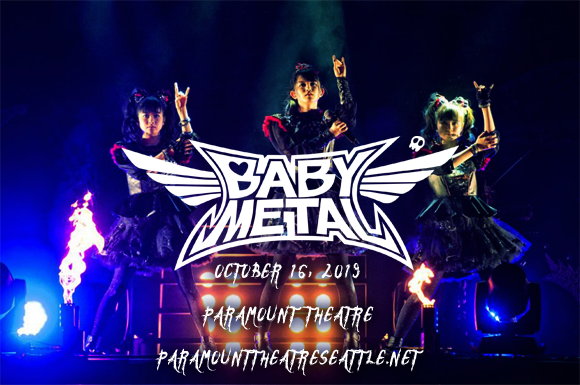 Japanese kawaii-metal band Babymetal were formed in 2010 and perform a fusion of J-pop idol and metal music. The group's original line-up consisted of Suzuka Nakamoto as "Su-metal", Yui Mizuno as "Yuimetal", and Moa Kikuchi as "Moametal", although Yuimetal left in 2018 due to poor health. Produced by Kobametal from the Amuse talent agency, Babymetal initially formed as a sub-unit of the Japanese idol group Sakura Gakuin, but became an independent act in 2013. The band released its eponymous debut album in 2014, followed by Metal Resistance in 2016. Their third studio album, Metal Galaxy, is due for release this year. The group is known for its entertaining live shows and the Babymetal vocalists are backed by the Kami Band when they perform live. In addition to their studio albums, the band has released two live albums and seven live DVDs.