Paramount Theatre Seattle | Seattle, Washington
Galvanized by a love of brass and Balkan sounds, Beirut's fusion of indie rock and world music makes them an absolute must-see live act! Proponents of infectious energy and unusual instrumentation, the Zach Condon-fronted band comes to Paramount Theatre Seattle on Wednesday 27th February 2019 in support of their brand new album, Gallipoli! Expect exciting new material from the troupe, who will woo you with their stately baroque vibes!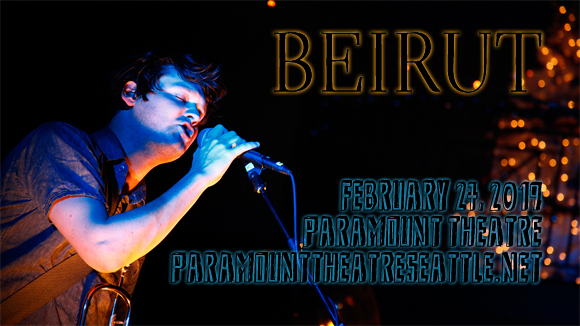 The brainchild of singer songwriter Zach Condon, Beirut is an American folk band that fuses indie rock with world music. Inspired by travels around Europe and by Balkan music in particular, Condon began his project in 2005, when he recorded his critically acclaimed debut album Gulag Orkestar. This led to Condon signing to Ba Da Bing! Records in 2006, with whom he released three 2007 EPs, and Beirut's second studio album, The Flying Cup Club, later that year. The band's fifth studio album, Gallipoli, was released in 2018, preceded by the singles "Gallipoli" and "Corfu". As part of the band, Condon plays a rotary valve flugelhorn and the ukulele, as well as trumpet, euphonium, mandolin, accordion, various keyboard instruments, and a modified conchshell that appears on The Flying Club Cup. He is supported by several other multi-instrumentalists who make up the group's live outfit.