Paramount Theatre | Seattle, Washington
The king of no-holds-barred, libertarian political satire, Bill Maher, comes to Paramount Theatre Seattle on Saturday 25th January 2020 for a night of well-observed hilarity! Unyielding and unafraid to lay it on the line, Maher has been moving the goalposts of what's acceptable within political comedy for over two decades, and has been nominated for an astonishing 38 Emmy Awards for his work! Book your tickets today to see this prolific and masterful current events commentator and stand-up live!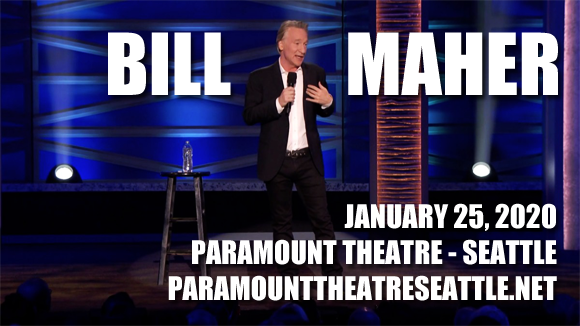 American comedian, political commentator and television host Bill Maher began his career as a comedian and actor in the late-1970s and early-1980s. His rise to fame began in 1993 when he became the host of Comedy Central's late-night political talk show Politically Incorrect with Bill Maher. The show ran until 1997 on Comedy Central, and on ABC from 1997 – 2002. It won a bevvy of awards, including an Emmy Award for Outstanding Technical Direction, two CableACE awards for Best Talk Show Series, and a Genesis Award for Best Television Talk Show, and Maher himself earned numerous award nominations for his producing, writing, and hosting of Politically Incorrect, including ten Emmy nominations, two TV Guide nominations, and two Writers Guild nominations. Since 2003 he has hosted the HBO political talk show Real Time with Bill Maher, which was nominated for a Primetime Emmy Award for Outstanding Variety Series every year from 2005 through 2014, and for the Primetime Emmy Award for Outstanding Variety Talk Series in 2016 & 2017. Maher received a star on the Hollywood Walk of Fame in 2010.