Paramount Theatre Seattle | Seattle, Washington
A groundbreaking tandem has just been announced! Critically-acclaimed rock band, Black Veil Brides, is going on a co-headlining tour with Finnish rock legend Ville Vallo! These two celebrated rock icons joining forces for a massive tour is just perfect for the fall season. Both acts are excellent purveyors of dark, melodic music. Black Veil Brides and Ville Vallo (who's most famous for his work with the rock band HIM) are reaping the gothic aesthetics! On Monday, 16th October 2023, the tour will make a coveted stop in Seattle, Washington! Fans can look forward to Black Veil Bride's incredible hard rock staples, such as "Scarlet Cross," "The Last One," and "Goodbye Agony." Meanwhile, goth fans can revel in Ville Vallo's return as he's guaranteed to perform numerous hit songs from HIM and his solo album! Fulfill your gothic (and emo) dreams this fall by scoring tickets to see Black Veil Brides and Ville Vallo at the Paramount Theatre Seattle!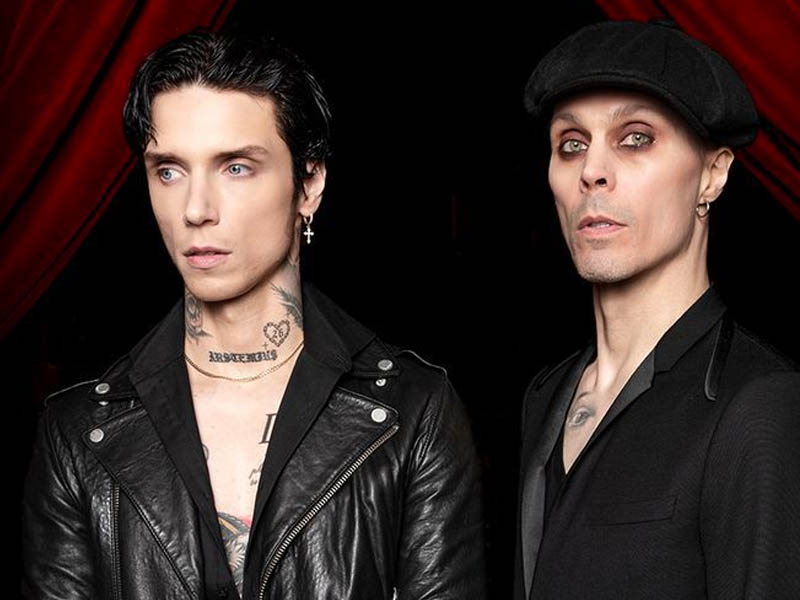 Finnish singer-songwriter Ville Vallo is one of the most prominent music personalities in gothic rock. He was the lead singer, co-founder, and main songwriter of the now-defunct band HIM. The band, which emerged in 1991, became of the most commercially-successful Finnish bands of all time. The group has released several gothic rock staples, "Join Me in Death," "Right Here in My Arms," "Gone with the Sin," and "The Funeral of Hearts." The band has dropped eight studio albums, several of which have earned platinum and gold in their home country. The band's 2005 album Dark Light earned gold status in the U.S. after selling over 500,000 copies in the country. In fact, HIM was the first Finnish music act to earn gold in the U.S.
After the band's breakup in 2017, lead singer Ville Vallo moved on to pursue his solo career. Earlier this year, he released his debut album, Neon Noir, which topped the Finnish chart. Released via Spinefarm Records, Neon Noir continues to showcase Vallo's affinity to gothic rock music. The album released several critically acclaimed hits, "including Loveletting," "Echolocate Your Love," and the title track.
Ohio-born quintet Black Veil Brides recently completed massive tours with fellow hard-hitting rockers and heavy metallers In This Moment, Ice Nine Kill, and Motionless in White. The band has actively been on the road since the release of their 2021 effort, The Phantom Tomorrow. The critically-acclaimed album was promoted in line with frontman Andy Biersack's series of film and TV appearances, American Satan and Paradise City. The album is officially the band's third concept album and features a rock opera sound. The Phantom Tomorrow made waves on the U.K. charts and spawned several fan-favorite singles, "Scarlet Cross," "Crimson Skies," and Torch."
Since emerging in 2006, the band has steadily evolved in both sound and appearance. The band used to perform metalcore music. By their second album, Set the World on Fire, Black Veil Brides donned heavy make-up, which resembles a shock rock/glam metal fusion style. Over the years, Andy Biersack dropped the harsh screaming and opted for clean singing. By 2021, the band had wholly dropped their shock rock look and began performing rock music without exaggerated theatrics.
If you want to see Black Veil Brides and Ville Valo share the stage at the Paramount Theatre Seattle, then you should hurry and secure your tickets now before it sells out!