Paramount Theatre Seattle | Seattle, Washington
Set to release his highly-anticipated new album, Blackbear recently shared a new song "The Idea" and announced his first headlining tour in three years. The Nothing Matters Tour is bringing his new record named "In Loving Memory" to life on stage, for the world to hear. The tour is making a stop at Paramount Theatre Seattle on Thursday, 29th of September 2022. Earlier this year, Blackbear released a new angsty single "GFY" with Machine Gun Kelly. Known for his hits "Hot Girl Bummer", "Me & Ur Ghost", "Do Re Mi", and "@ My Worst", Blackbear's new album "In Loving Memory" which marks a return to his pop-punk roots comes out on August 26th. So, get ready to witness Blackbear's new record come to life on the live stage at the Nothing Matters Tour by booking your tickets now!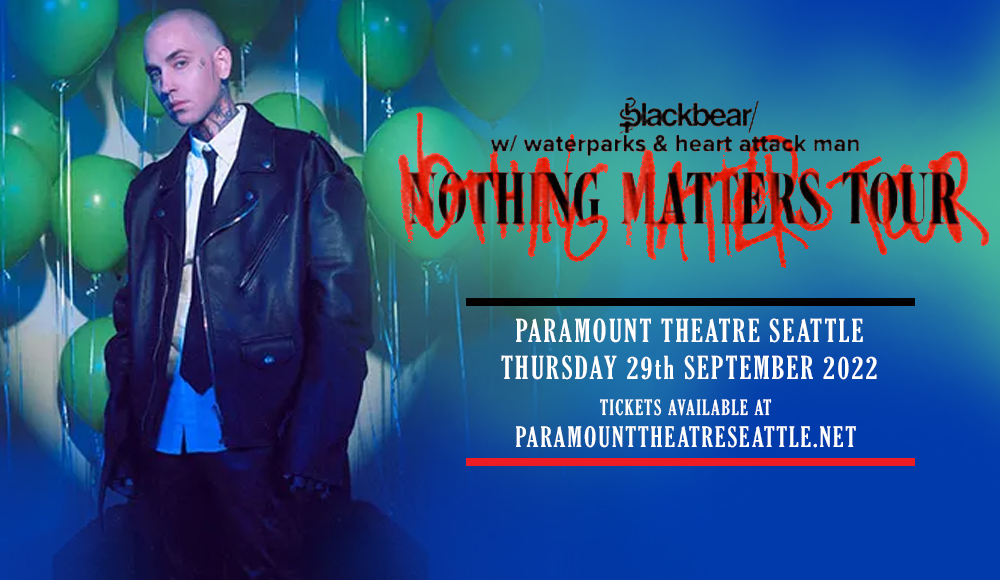 Set to release an album that revisits his pip-punk roots, as a tribute to his late father, Blackbear is finally releasing "In Loving Memory" on August 26th. "The whole idea behind the album is a letter to my father who passed away, and I never got to say goodbye." Blackbear shared. "I'm making this music that is true to my roots"
The man just dropped a new song "The Idea" which gives fans a taste of what to expect on the new record. Compared to his previously released angsty break-up hit with Machine Gun Kelly, "GFY", "The Idea" highlights Blackbear's vulnerable side and pop-rock influences. "How do you fall asleep without me here? / I see right through you, I see you so clear /Wake up my demons and my biggest fears /Are you in love with me or the idea," he sings.
Born as Matthew Tyler Musto, the man rose to global acclaim as Blackbear for his hit tracks "Idfc", "Do Re Mi", "Hot Girl Bummer", "Memory" (with Kane Brown), "Me & Ur Ghost", and "Queen of Broken Hearts".
Blackbear co-wrote Justin Bieber's 2012 hit "Boyfriend", and dropped his debut EP "Foreplay" in April of the same year. Though known as an iconic singer-songwriter and rapper, the man has produced and co-wrote several hits for various artists including Big Time Rush's "Windows Down", Maroon 5's "Beautiful Mistake", and Nick Jonas' "Numb".
Five albums in, Blackbear's highly-anticipated sixth studio record is set to be his most vulnerable and most honest yet as he revisits his pop-punk roots and pays tribute to his late father. Listeners can expect a nostalgic ride and an emotional connection as Blackbear tells tales of lessons and experiences that shaped who he is today.
"In Loving Memory" is coming out on August 26, 2022.
Set to have the "new record its first play live", don't miss out on the Nothing Matters Tour by giving that button a click and booking your tickets now!