Paramount Theatre | Seattle, Washington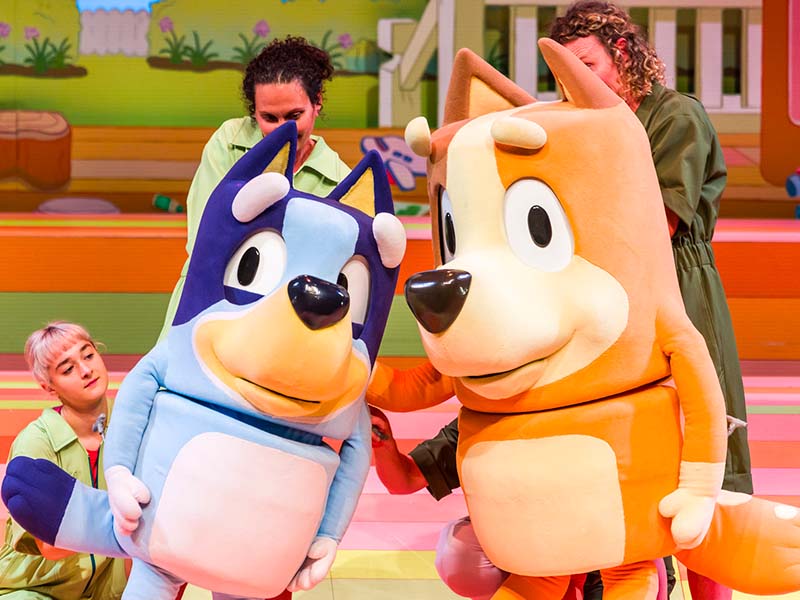 Start your year right by bringing your family to a thrilling, fun-filled learning adventure! The season's most exciting kid's musical is saying hello to the year 2024 with a bang, and it's traveling across North America! The Emmy-Award-winning series Bluey invites its audiences to an exciting musical adaption titled Bluey's Big Play! Check out the charming world of Bluey, his sister Bingo, his dad Bandit, and his mom Chili as they embark on a fantastic adventure filled with great imaginative play! The show features the original music of esteemed composter Joff Bush with a whole new story from Bluey's creator, Joe Brumm! The show, which comes to Seattle, Washington, on Saturday, 20th January 2024, is set to light up the iconic Paramount Theatre Seattle! So whether you live in the city or are visiting the area, you should hurry and score tickets to Bluey's Big Play at the Paramount Theatre Seattle! Tickets are now up for grabs, so quickly click on the Get Tickets link to score yours now!
The popular Australian TV series has made children laugh, play, and sing along to its quirky and charming characters. Bluey teaches imaginative play and tells stories of adventures and whatnot. Six-year-old Bluey is an energetic, creative, and curious little blue heeler puppy, and he lives with his family in Queensland, Australia. The program, which premiered in 2018, was created by Joe Brumm and produced by Ludo Studio, which is also based in Queensland. Since its premiere, the series has grown into one of the most outstanding shows for children, even earning an International Emmy Kids Award and two Logie Awards. Bluey can now be seen everywhere in the world and has grown into selling toys, merchandise, and more.
Since Bluey has immensely grown in popularity, it is only a matter of time before a musical adaption is produced. Bluey's Big Play brings the show to life with impressive scenic design, lifelike puppets controlled by expressive puppet masters, and state-of-the-art production. The show, designed to be enjoyed by kids and the whole family, has pulled out all the stops. Bluey's Big Play is guaranteed to elevate the children's five senses from its sensational aural and visual experience!
Since premiering last year, Bluey's Big Play has received rave reviews from critics. Many have described the show as fun, energetic, and with plenty of heart. The musical was also complimented for its bright palettes and its fantastic designs representing what life is like in Queensland, Australia. A review from Broadway World had nothing but praise for the musical, "The story was a beautiful slice of life, as all Bluey stories are, for not just the young and the old. Through his work, Joe Brumm provided a subtle social commentary on the amount of time we spend on our phones, the give-and-take relationship between siblings, childhood naivety, and family dynamics, all bundled into a neat bow. The puppeteers were excellent, mirroring the puppets' expressions, mannerisms, and movements from behind them."
This is your chance to catch Bluey's Big Play at the Paramount Theatre Seattle on Saturday 20th January 2024! Tickets to the show are now available through the Get Tickets link!