Paramount Theatre Seattle | Seattle, Washington
Officially dropping their first single since 2012, the pop-rock icons, Boys Like Girls, are finally prepping for a massive comeback. With a new record in the works, the band also announced its 30-date North American 'Speaking Our Language' Tour. Following the release of their newest single "Blood and Sugar", fans of the iconic rockers are in to experience a new Boys Like Girls era in full swing. Part of the trek is a special stop at Paramount Theatre Seattle on Wednesday, 11th of October 2023. As the band launches its highly-anticipated fourth studio album later this Fall, everyone's definitely up for big surprises from the "Love Drunk" rockstars. Presented by Emo Nite, the tour will feature State Champs as its opening number, with special guests Four Year Strong, 3OH!3, LOLO, The Summer Set, The Ready Set, and Max Bemis sharing the stage at select shows. Don't miss out by booking your tickets now!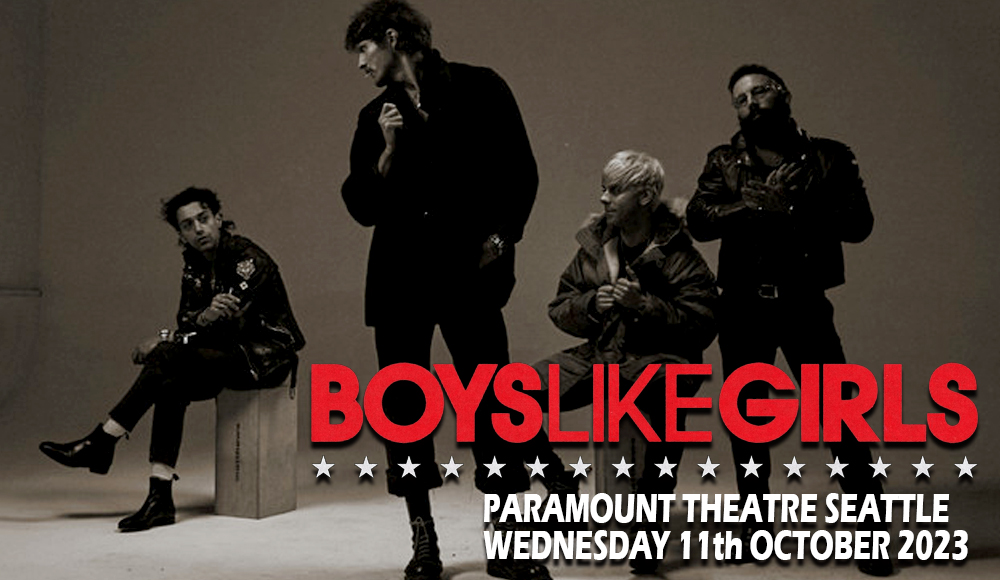 If you've been on Boys Like Girls' radar, you'll be stoked to hear the band's newest comeback single "Blood and Sugar", 10 years since the band released a new song back in 2012. Following a decade-long hiatus and a brief 2016 reunion trek, Boys Like Girls is back on the road, dropping an upcoming album and a matching live "Speaking Our Language" tour trek this Fall. As one of the world's most iconic pop-rockers for their chart-topping hits "The Great Escape", "Two Is Better Than One" featuring Taylor Swift, "Thunder", and "Love Drunk", the band's massive comeback is definitely one to watch out for!
Coming fresh from a decade since their last release, Boys Like Girls stirred massive attention prior to the official release of their comeback single, with a nostalgic TikTok post amassing over 500,000 views within 24 hours. This proves that Boys Like Girls' music remains timeless, and its fans continue to stick around.
"Blood and Sugar" is just the beginning. Teasing a new album in the works, big surprises are in store for Boys Like Girls fans across the world. With a matching comeback trek slated this Fall, we're betting huge celebrations at every night on tour.
"I got an interesting relationship with my younger self," Johnson shared in a 3-minute flashback clip dedicated to their fans. "For a while, maybe around 2011, singing songs from our first album I wrote at 17 felt like reading a lackluster junior year English paper from the same podium every day. I guess at some point, the songs you wrote in that old attic apartment are no longer yours. They belong to the listener, whose life experience and memories with them become more important than what they were written down in the first place."
With music that continues to inspire a generation of listeners who grew up to the band's hard-hitting pop-rock hits, Boys Like Girls became more than just people you'd hear on the radio. The band became an institution for this generation to attach lifelong memories to every lyric and melody the band produced.
Formally announcing their hiatus prior to the release of their 2012 record "Crazy World", Johnson shared that he "retreated the studio and set off on a quest to make music for other people in 2012,". The man is well-known to have written hits for various stars including Ariana Grande and Avril Lavigne. Having lived this journey over the past decade, he shared that he would "find myself tucking a new song into a secret playlist."
Seems like that secret playlist's finally getting the light of day. Breaking the silence with "Blood and Sugar", we're extremely stoked to see what the boys are up to.
"I think everyone has an infatuation with something bad for them," Johnson shared about the meaning behind "Blood and Sugar". "I spend most of the time trying to fill that hole with perfection. But in the end, nobody's perfect. Only blood and sugar. And that I suppose is the inner DNA of the song that pulled us back into the studio together for Boys Like Girls. The song we want to meet you all again with."
Gearing up for the massive release of Boys Like Girls' comeback LP, better make sure to save your spots at the Speaking Our Language Tour before they run out!