Paramount Theatre | Seattle, Washington
The Scottish trio who took listeners across the globe to their 'chvrch of synths is back. Coming out from your screens, Chvrches has added dates to their North American tour in support of their fourth album "Screen Violence". Taking listeners to 'chvrch since their online debut song "Lies" emerged in 2012, the band made waves as one of the best British break out acts, getting listeners hooked to their indie electronica sound driven by their signature synths that get the crowd to raise their hands up in their live shows. Chvrches is coming over to Paramount Theatre Seattle on Friday, September 30th, 2022. So, get ready to raise up those hands as the energy comes out of the screen and into the live stage as Chvrches takes over. Book those tickets now!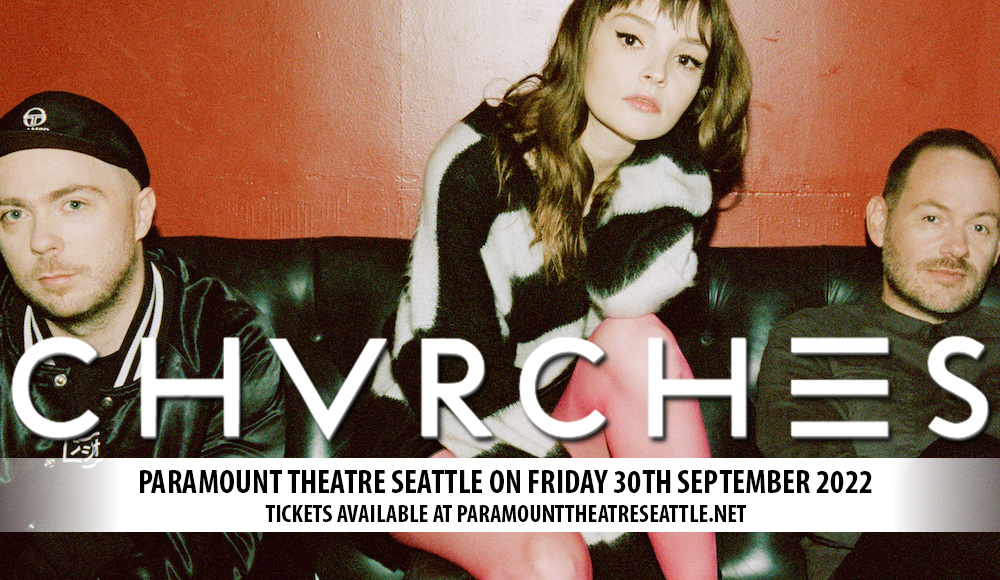 Having started off as a studio project, Iain Cook, Martin Doherty, and Lauren Mayberry uploaded their debut song "Lies" on the Neon Gold Records blog with a picture of nuns in masks. Soon after, Chvrches became the talk of the town with the song reaching #1 on The Hype Machine, gaining constant airplay on BBC Radio 1 and Soundcloud. With the positive response to their online debut, "It was unbelievable, way beyond what we expected," shared Doherty.
Despite making rounds online, Chvrches still hasn't performed a live show at the time. They tested the waters performing under a different name before making their live stage debut as Chvrches.
The band dropped their debut single "The Mother We Share" in 2012, the lead single of their debut full-length studio album "The Bones of What You Believe".
What seemed like a hidden gem found from the online forest, Chvrches soon dominated the scene, with listeners hooked on their signature synths. "The Bones of What You Believe" reached #9 in the UK and #12 in the US charts. They got nominations for "Best New Band" and "Best British Band" at the NME Awards.
Their next albums "Every Open Eye", "Love Is Dead" and "Screen Violence" all kept Chvrches' legacy of producing energy-inducing, synth-driven tracks that fans love.
Chvrches' best hits and fan favorites across their follow-up albums include "Leave a Trace", "Never Ending Circles", "Get Out", "Miracle", "He Said She Said", and "How Not to Drown" with Robert Smith.
Chvrches' "Screen Violence" takes listeners on a ride that explores themes such as fear, loneliness, and heartbreak that revolve around the screen – where most of the world focused their eyes on.
"I think for me it was helpful to go into the process with the idea that I could write something escapist almost," Mayberry said. "That felt freeing initially, to have concepts and stories to weave your own feelings and experiences through but in the end, all the lyrics were definitely still personal."
Martin Doherty shares "To me, the screen aspect was a bit more literal. When we were making the record, it was like half of our lives were lived through screens. What began as a concept was now a lifeline."
As 2022 brings in more and more artists back to the stage, Chvrches is calling you to get out of that screen and come back to 'chvrch as they perform live at Paramount Theatre Seattle on September 30, 2022. Book your tickets now!