Paramount Theatre Seattle | Seattle, Washington
Welcome to the wonderful world of Daniel Tiger, where all the kids learn essential life lessons through imaginative play and stories! This February, the charming TV series Daniel Tiger's Neighborhood goes live in a wonderful stage adaptation! See Daniel Tiger, his friends O the Owl, Miss Elaina, Prince Wednesday, and Katerina Kittycat as they hop on board the trolley and go to town on a little! This family-friendly show, titled Daniel Tiger's Neighborhood Live: King for a Day, is filled with your children's favorite characters! Moreover, the show will liven up all your kids' senses as the groundbreaking production brings the Neighborhood of Make-Believe to Life! The grr-ific musical is set to take over North America this 2024 with numerous dates across select cities! On Sunday, 4th February 2024, Daniel Tiger's Neighborhood will take over the Paramount Theatre Seattle and give all the kids a wonderful time! You can also expect plenty of Daniel Tiger hits! So hurry and score your tickets now before they're gone!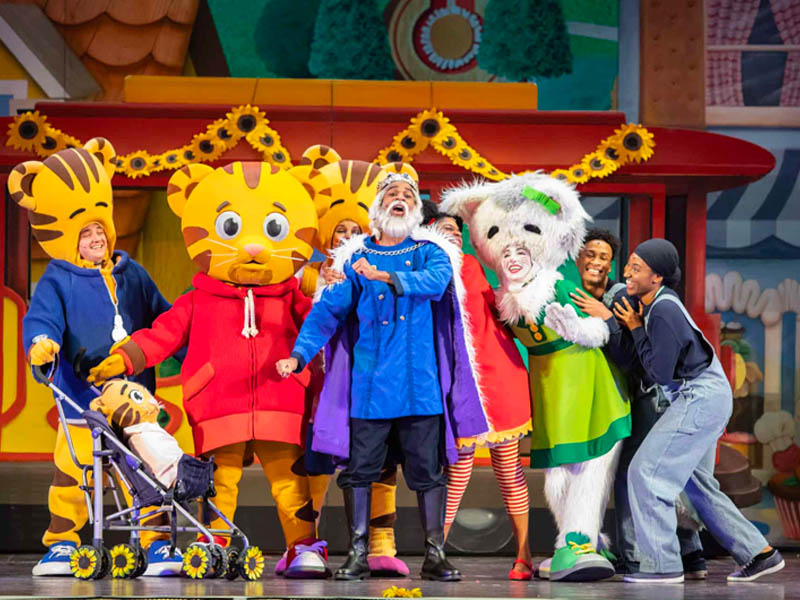 Daniel Tiger is an Emmy Award-winning TV series from PBS Kids. The show's premise revolves around a little tiger cub, Daniel, who learns life lessons through everyday experiences. Dad Tiger and Mom Tiger are always there to help Daniel learn valuable lessons, such as managing emotions, sharing, making friends, and more. The show also portrays many significant life changes, such as the arrival of Daniel's baby sister Margaret. The characters are all very endearing, and Dad Tiger and Mom Tiger approach their little cub with gentleness, patience, and explanations. Other beloved characters include Daniel's grandpa, Grandpere.
Aside from his family, Daniel Tiger also has friends in preschool, such as Katerina Kittycay, Miss Elaina, Prince Wednesday, and O the Owl. They would often play together in school or go on playdates. They are all great friends, but sometimes a little misunderstanding arises, which will later teach the children another life lesson. The show often teaches viewers values that coincide with a song. Some of the more popular hits include "When You Feel So Mad That You Want to Roar," "Grown Ups Come Back," and " Saying I'm Sorry is the First Step."
Daniel Tiger's Neighborhood premiered in 2012 on PBS Kids and went on to air over 134 episodes across six seasons. Each episode runs an average of 20 to 28 minutes, while special episodes can run as long as 45 minutes. For providing valuable content for children ages two to four, Daniel Tiger's Neighborhood has earned numerous accolades. Some of the show's more notable awards include Parent's Choice Award in 2013 and 2014 and a Television Critics Association Award nomination in 2013 and 2014. In 2014, the show was a Prix Jeunesse International Selection. Moreover, the show won a Daytime Emmy Award for Outstanding Pre-School Program in 2019.
Since 2012, the show has grown in popularity and expanded its reach through deals with Netflix and Amazon Prime Video. The series is now also being shown on Cartoon Network's UK partner, Cartoonito. Since the show has garnered a massive following, it has since expanded to books, toys, merchandise, and musicals.
You can now see Daniel Tiger Live in person by securing tickets to the show at the Paramount Theatre Seattle on Sunday, 4th February 2024!