Paramount Theatre | Seattle, Washington
Let your hair down, put on your glass slippers, dress up, touch up and look in the mirror on the wall, feel the prettiest of them all, and have a ball at "Disney Princess – The Concert" at Paramount Theatre Seattle on Sunday 6th March 2022. Yes, you're invited to grace this royal affair as Disney's most beloved Princesses will give you and your family a totally enchanted evening of stories and songs. This may be a dream or a wish your heart made. Now it's all coming true… Mark your calendars, it's a date! Be part of this wonderful world of Disney Princess – The Concert. Book your tickets now!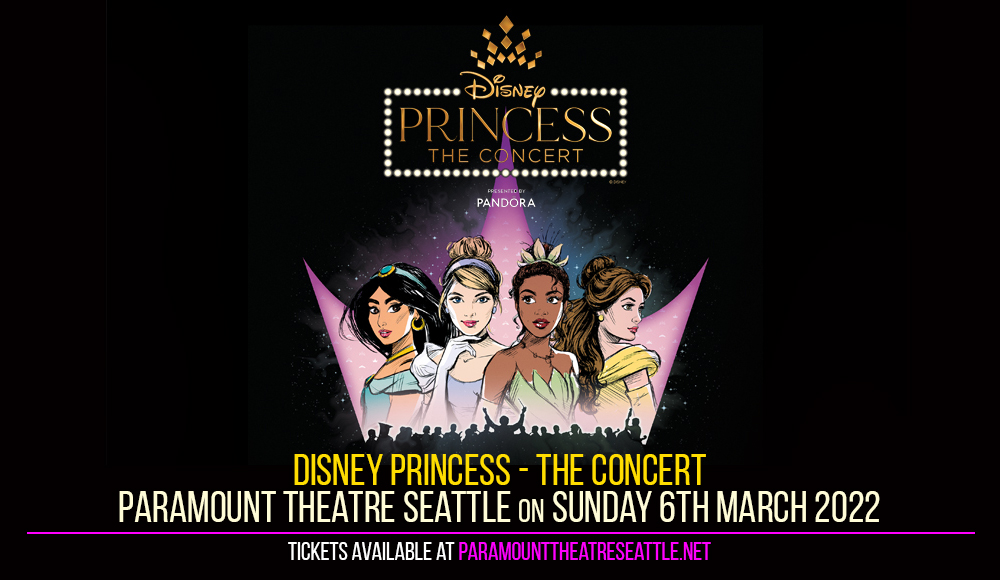 Disney's most loved Princesses are what childhood dreams, memories, and wishes are made of. Their amazing, enchanting, exciting, and heartwarming stories of kindness, pure heartedness, and courage serve as inspiration and aspiration to kids and even adults all over the world.
We have read and seen their stories and adventures in books, television, and movies. And all these come with memorable and loveable tunes that become soundtracks of our lives. In Disney Princess – The Concert, highly acclaimed performers will sing your favorite Disney Princess songs. Drama Desk®-nominee Christy Altomare, Tony®-nominee Susan Egan, Grammy®-nominee Courtney Reed, and BroadwayWorld Award-winner Syndee Winters join forces in this concert of a lifetime, alongside their magical Music Director, Benjamin Rauhala and enchanting Prince, Adam J. Levy.
One of the outstanding cast member is Susan Egan, a bona fide Disney legend, shares the thrill of putting on her crown again, singing those wonderful songs, and sharing hilarious and heartfelt behind-the-scenes stories too.
"This has been a hard secret to keep", says Susan; "but for the last YEAR+, we've been working with @disneyconcerts to co-produce an expanded, embellished and exultant new version of our beloved Broadway Princess Party now titled 'Disney Princess – The Concert'…Thousands of hours (yes, mostly on @zoom !), brilliant new creative & business partners, and our core family at BPP LLC have all come together to create something we are VERY proud to now share with you!! We are touring to more than 85 cities, starting November 1, 2021, so find us in a kingdom near you!! It's our dream come true and we can't wait to see you there!
Happy ever afters can be found in moments like these. Don't miss it!