Paramount Theatre | Seattle, Washington
Elvis Costello and his band The Imposters are headed to Paramount Theatre Seattle on Monday 3rd December 2018 in support of Look Now… It's Elvis Costello and The Imposters, his first album in five years (and his 30th solo album), which features collaborations with Burt Bacharach and Carole King! The renowned songwriter has a wealth of incredible material from nearly five decades in the industry and his live performances are second-to-none! Tickets available now!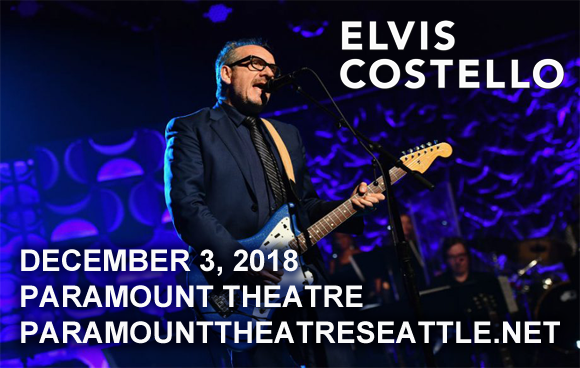 First finding fame in the 1970s as part of Britain's New Wave scene, Elvis Costello is an English musician, singer, songwriter and producer. Signed to Stiff Records as a solo artist in the 1970s after a stint in a pub rock band called Flip City, Costello released his debut album, My Aim Is True, in 1977. His first three albums, My Aim Is True (1977), This Year's Model (1978) and Armed Forces (1979) have all been listed on Rolling Stones list of the 500 Greatest Albums of All Time. Aremd Forces features his highest-charting single "Oliver's Army" (1979). With a plethora of hits over several decades, Costello has also been highly awarded throughout his career. He has collaborated with several well-known artists, and co-written many original songs for motion pictures, including "God Give Me Strength" from Grace of My Heart (1996, with Burt Bacharach) and "The Scarlet Tide" from Cold Mountain (2003, with T-Bone Burnett), for which he was nominated (along with Burnett) for the Academy Award for Best Original Song and the Grammy Award for Best Song Written for Visual Media. In 2003, Costello and his former band, the Attractions, were inducted into the Rock and Roll Hall of Fame. The following year, Costello was ranked by Rolling Stone as number 80 on their list of the 100 Greatest Artists of All Time.