Paramount Theatre | Seattle, Washington
Decades before the term "girl power" was coined. there she was, rockin' the cause of feminism and other socio-political issues through her writings, speeches, lectures, quotes, and organization. Gloria Steinem, nationally recognized leader and spokeswoman for the American feminist movement since the late 1960s and early 1970s, has never rested on her laurels. Now, she's still at the top of her game, and rolling out the carpet for as she mounts the stage once again for "Gloria Steinem In Conversation: 'The Truth Will Set You Free, But First It Will Piss You Off!'". Mark this event on your calendars and tag this venue: Thursday 21st November 2019, at the Paramount Theatre Seattle. But truth be told, tickets are really easy to book as long as you click the "buy tickets" button right here on this website. Act quickly before it runs out. Book your tickets now!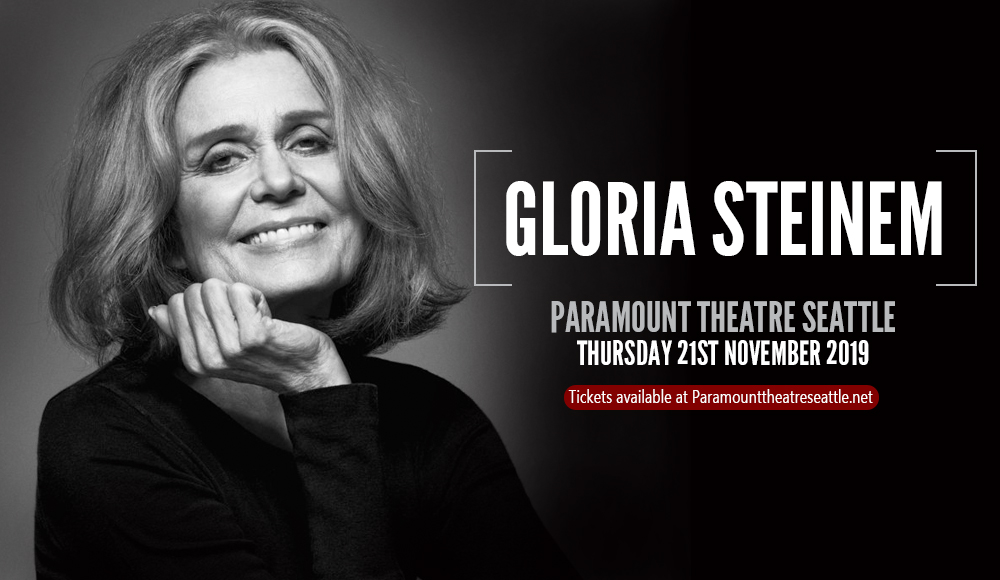 Women in relationships. Patriarchy. Gender equality… These are just some of the many core issues that Gloria Steinem brought out, talked about, questioned, and fought for at a time when these topics were just articulated in whispers, restrained in silence, shunned, fell on deaf ears, or compelled to be erased and forgotten. But Gloria Steinem bravely exposed it like an open wound, and used her writing and speaking powers to carry out its healing process, so to speak.
Gloria Steinem's writings and quotes inspired movements, causes, institutes, organization, and more importantly, paved the way for rebuilding and improving lives, especially that of women.
Some of her famous quotes include:
* "A movement is only composed of people moving. To feel its warmth and motion around us is the end as well as the means."
* "Every social justice movement that I know of has come out of people sitting in small groups, telling their life stories, and discovering that other people have shared similar experiences."
* "Feminism has never been about getting a job for one woman. It's about making life more fair for women everywhere. It's not about a piece of the existing pie; there are too many of us for that. It's about baking a new pie."
People from all walks of life, including celebrities, are celebrating the impact and influence of her works.
"Gloria has a profound knack for expressing ideas in ways that stick with you. When trying to explain something that I can't seem to wrap my own words around, I very often reach for one of Gloria's quotes. This beautiful book of her words will no doubt make one of the most quotable women I know even more eminently quotable." – Emma Watson
"When the path is dark, Gloria's words light the way forward. I find myself returning again and again to her words for inspiration, comfort, and wisdom. She has a way of saying things you feel you knew but never knew how to articulate. Other times, she expresses ideas you've never encountered, but once you've heard them, they are impossible to deny. Her words contain the poetic clarity only truth offers." – Natalie Portman
Gloria Steinem is a writer, lecturer, editor, and feminist activist. In 2013, she received the Presidential Medal of Freedom from President Barack Obama.
This is a event that will move and possibly make a difference in your life. If you want to experience that rush of inspiration that will stir your soul towards new and positive directions, this is it! Get this chance of a lifetime by booking your tickets now!