Paramount Theatre | Seattle, Washington
There's a new rock band on the scene, and they're ready to take you right back to the sound of the 70s. That's right, it's the much-hyped Greta Van Fleet, on a MASSIVE tour around the US and playing their second show at the Paramount Theatre Seattle on Saturday 8th September 2018. If their track record so far is anything to go by, it's likely to be a sell out show – so don't delay!! Grab your tickets now before they go!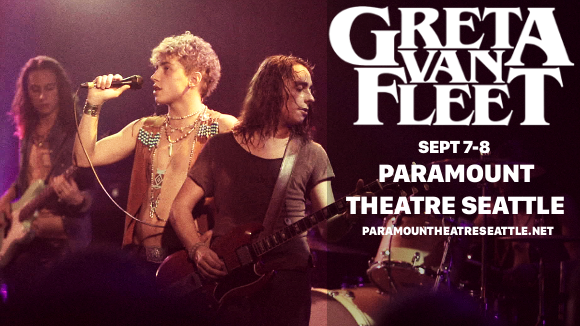 Since their song "Highway Tune," was released, racking up millions of downloads on iTunes, Greta Van Fleet have soared to success, gaining attention for their authentic, raw blues-rock sound, and the "husky," vocal of singer Josh Kiszka, favourably compared to (and earning the approval of!) Led Zeppelin singer Robert Plant. The band have already had to expand their US tour due to fan demand.
"It's humbling," the band said, when asked how they felt about selling out shows so early in their career. "Because I don't think that any of us had expected this sort of immediate attention, and for it to be received so well so quickly. But yeah, it's humbling to see that every single venue consistently, continues and consistently sells out. It's great."
What are you waiting for?? Those tickets won't last – grab your space at Greta Van Fleet's show at the Paramount Theatre Seattle NOW!!