Paramount Theatre | Seattle, Washington
Get ready for the most unique young rock group out there!! Greta Van Fleet, hailed as the next Led Zeppelin, are bringing rock n' roll back to the masses with a HUGE North American tour in support of their debut album! Treat yourself to an epic night at Paramount Theatre Seattle on Thursday 10th January 2019!!! It's going to be a phenomenal show! Tickets available now – don't wait about getting yours!! Book well in advance to be sure of your place!!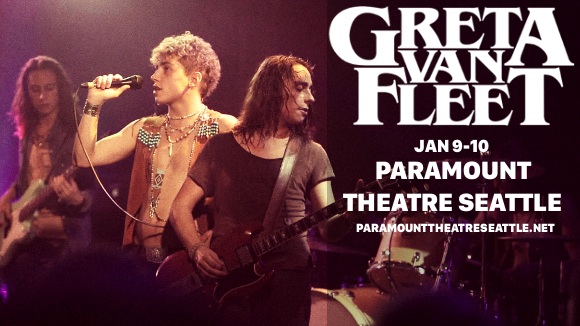 Formed in 2012 by the three Kiszka brothers and their childhood friend Danny Wagner, Greta Van Fleet have been immersed in classic rock music and singing or playing their instruments for as long as they can remember. "Our father played guitar, and that's what I wanted to do," guitarist Jake Kiszka said in an interview. "I wanted to play like him. Then I started listening to all the records our parents had laying around, listening to the guitars on those tracks and trying to do that with the acoustic."
Greta Van Fleet have so far released two EPs: "Black Smoke Rising" and "From the Fires". The band's very first album, entitled "Anthem Of The Peaceful Army," is scheduled for release October 19th, and has been preceded by the single "When the Curtain Falls," which charted in the top 5 of the Billboard Mainstream Rock Songs chart.
Get ready for an old-school rock and roll show from a young band just about to become legends – tickets on sale NOW!!