Paramount Theatre | Seattle, Washington
Hard Nut is one of MMDG's most beloved acts of all times. Watch this wonderfully choreograph musical at to Paramount Theater Seattle on 11th December 2019, 7:30 pm. It is guaranteed to bring you and your family joy this holiday season!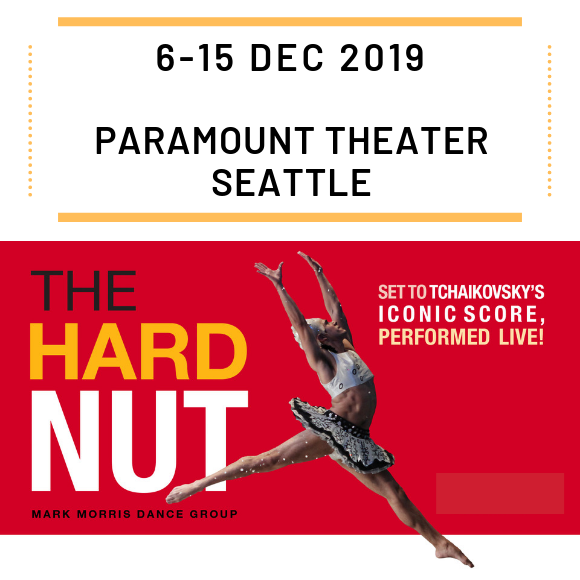 RUN TIME: Approx 2hrs with intermission
VENUE: Paramount Theater Seattle
DATE: 11th Dec 2019
TIME: 7:30 pm
TICKET INFO: TICKETS START AT $25
ACCESSIBILITY: Appropriate for audiences age 4 and up.
Mark Morris Dance Group's beloved retro-modern reimagining of The Nutcracker comes to Paramount Theater Seattle for the holidays. The Hard Nut premiered on 12 January 1991 at the Théâtre Royal de la Monnaie in Brussels, in time with the 100th anniversary of the creation of Tchaikovsky's classic score.
The Hard Nut is a cascade of wit and wintry beauty, this lavish, gender-bent love letter to the classic transplants E.T.A. Hoffmann's original story from the straitlaced 1890s to the swinging 70s, with raucous parties, dancing G.I. Joes, whimsical costumes, and a Waltz of the Snowflakes like no other. Based on the comic book art of Charles Burns and featuring Tchaikovsky's complete original score, performed live by the 53-piece MMDG Music Ensemble, Morris' lyrical, modern retelling playfully preserves the warm spirit of an essential holiday tradition.
That art is personal and deeply instilled with archetypal concepts of guilt, childhood, adolescent sexuality, and poignant, nostalgic portrayals of post-war America. Morris enlisted a team of collaborators to create a world, not unlike that of Burns' world, where stories take comic book clichés and rearrange them into disturbing yet funny patterns.
With these immense sets and scrims, lighting designer James F. Ingalls created a dark world within retro 1960s suburbia and costume designer Martin Pakledinaz created costumes that helped bring to life Burns' world, described as being "at the juncture of fiction and memory, of cheap thrills and horror." The last of 10 pieces Mark Morris created during his time as Director of Dance at the National Opera House of Belgium, the piece was his most ambitious work to date.
It is THE show to watch this Christmas. Bring your family and friends along to enjoy this seamlessly put together act by purchasing your tickets now.
Mark Morris Dance Group
Featuring the MMDG Music Ensemble and The Hard Nut Singers
Music by Pyotr Ilyich Tchaikovsky, The Nutcracker, Op. 71
Conducted by Colin Fowler
Choreography by Mark Morris