Paramount Theatre | Seattle, Washington
Mark Morris Dance Group's beloved retro-modern reimagining of The Nutcracker comes to Paramount Theater Seattle on 14th December 2019. This is the only date where they have 2 shows! This is the perfect holiday season show for the whole family!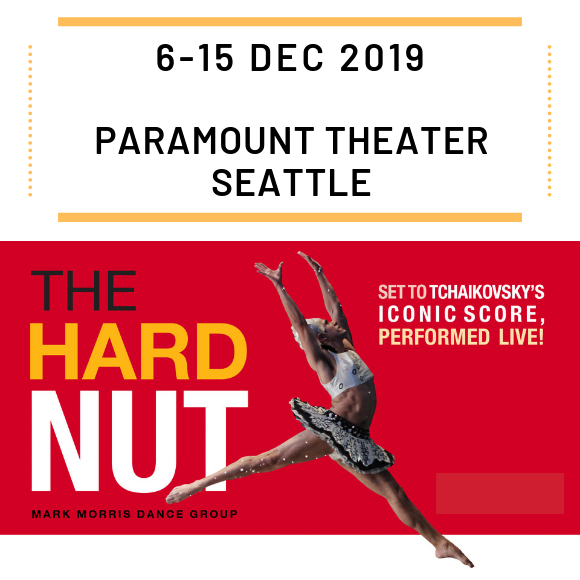 RUN TIME: Approx 2hrs with intermission
VENUE: Paramount Theater Seattle
DATE: 14th Dec 2019
TIME: 2:00 pm & 8:00 pm
TICKET INFO: TICKETS START AT $25
ACCESSIBILITY: Appropriate for audiences age 4 and up.
"BEAUTIFULLY CHOREOGRAPHED… UNQUESTIONABLY A SUCCESS."
The New Yorker
Come watch one of Mark Morris Dance Group's most beloved performance this holiday season!
Every show is a representation of E.T.A. Hoffmann's original story from the straitlaced 1890s to the swinging 70s, with raucous parties, clanking boots, whimsical costumes, and a Waltz of the Snowflakes as it continues to preserve the Christmas tradition.
This Broadway version of The Nutcracker is based on the comic book art of Charles Burns and featuring Tchaikovsky's complete original score, performed live by the 53-piece MMDG Music Ensemble, Morris' lyrical, modern retelling playfully preserves the warm spirit of an essential holiday tradition.
This year the Hard Nut celebrates its 28th anniversary. It debuted on 12 January 1991 at the Théâtre Royal de la Monnaie in Brussels.
Mark Morris Dance Group
Featuring the MMDG Music Ensemble and The Hard Nut Singers
Music by Pyotr Ilyich Tchaikovsky, The Nutcracker, Op. 71
Conducted by Colin Fowler
Choreography by Mark Morris
Purchase your tickets now to ensure that you will have a seat to watch this highly popular show on the 14th of December.