Paramount Theatre | Seattle, Washington
MMDG brings back their most beloved retro-modern reimagining of The Nutcracker this holiday season! Book your tickets here to catch them at Paramount Theater Seattle on 15th December 2019, 1:00 pm.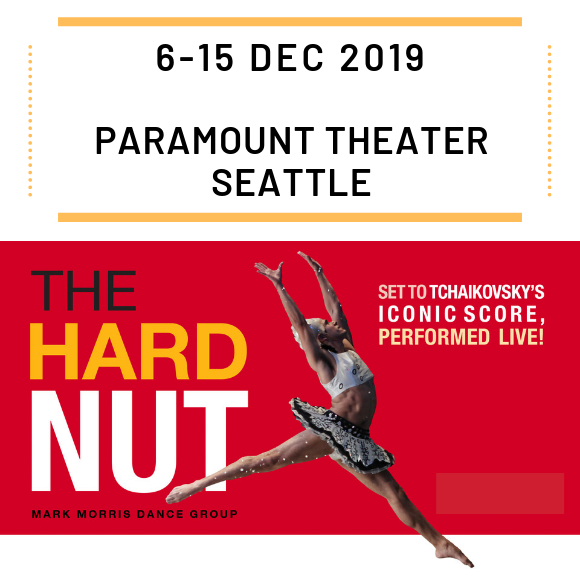 RUN TIME: Approx 2hrs with intermission
VENUE: Paramount Theater Seattle
DATE: 15th Dec 2019
TIME: 1:00 PM
TICKET INFO: TICKETS START AT $25
ACCESSIBILITY: Appropriate for audiences age 4 and up.
"YOU'VE NEVER SEEN A NUTCRACKER QUITE LIKE THIS BEFORE."
The Huffington Post
"A further drawback is storytelling. "The Hard Nut" tries to give us more narrative, and more layers of narrative, than almost any other "Nutcracker." Tries; fails. Who can make head or tail of what goes on in the scenes for Princess Pirlipat and the mice in Act II? Yet such is the staging's charm and fun that this is of little importance."
New York Times
"The Hard Nut" brings waves of laughter from curtain-up to curtain-down. The show is a tribute to the naughty theatrical brilliance of its choreographer, Mark Morris. His production feels fresh even after 28 years! Even if you have watched it before, you will still enjoy this show now.
It is accurate to say that the show is filled with vitality and humour. Every dancer involved dances on point, and, wherever pointwork occurs in this production, it's a caricature effect. Each note brings a rhythm that makes audiences around the world of The Nutcracker. It is hard not to be suck into the play and be fully focus.
If you have not seen this brilliant choreography of Mark Morris, this is definitely the time for you to commit.
Purchase your tickets today to have the best seats in the house.
We guarantee that you will not regret watching this show!