Paramount Theatre Seattle | Seattle, Washington
The Australian jazz-funk sensation, Hiatus Kaiyote, is hopping back on tour, serving a special show at Paramount Theatre Seattle on Wednesday, 22nd of February 2023. The Melbourne-based jazz act made waves for their distinct neo-soul vibe in a jazz-funk style. The quartet has produced unique and captivating tracks that set it apart from mainstream acts. As captivating as their recorded tracks are, their live shows prove to be a stellar experience, as they immerse the audience into a soulful energy of music that transcends this world. Don't miss out on this chance to catch the one and only Hiatus Kaiyote live on stage by booking your tickets now!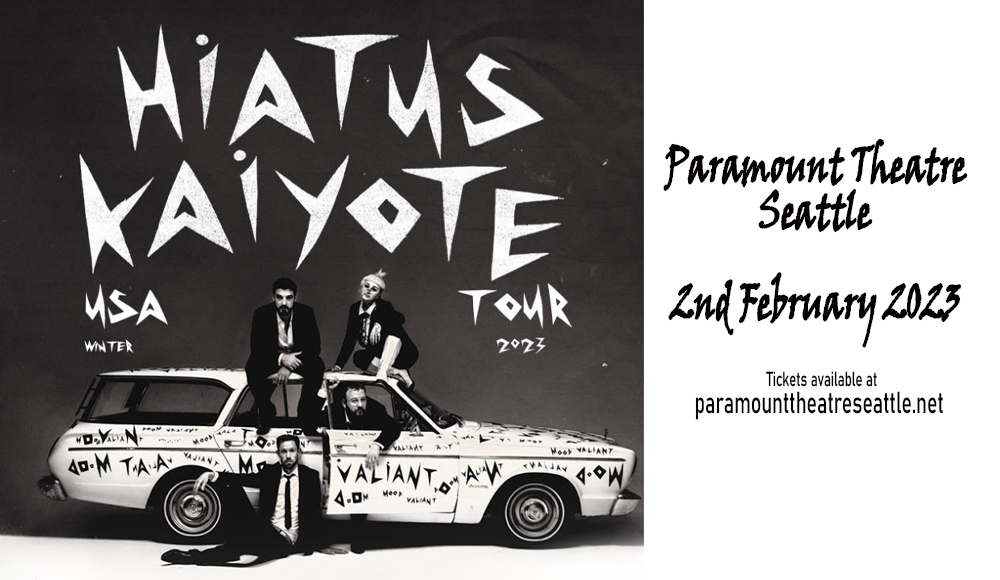 Hailing from Melbourne, Australia, Hiatus Kaiyote's music has generated strong waves across the world for its neo-soul energy blended through its signature jazz-funk masterpieces. The band is composed of Naomi Saalfield, Paul Bender, Simon Mavin, and Perrin Moss. Together, the quartet creates and releases tracks that are sonic healers. Some examples of their hits and fan favorites include "Rose Water", "Nakamarra", and "Building A Ladder".
Following the release of their 2021 album "Mood Valiant" which hit #1 in Australia, a successful 2022 tour run, and a Grammy nomination, Hiatus Kaiyote is taking on 2023 with eagerness to soar to new heights. They're kicking this off with a 2023 tour.
Playing their first gig in 2011, the band caught the attention of Taylor McFerrin who was amazed by the band's talent, as they opened for his show in Melbourne. In 2012, they released their debut album "Tawk Tomanhawk" independently. The record caught the attention of various bands, and later on received praise and endorsements from the likes of Questlove and Prince who shared about the band on social media. From then on, they started to amass an international following, and generate waves for their unique style amidst the sea of mainstream pop at the time. In 2014, they were nominated for a Grammy Award for Best R&B Performance for their hit track "Nakamarra", the first Australian artist to be nominated in the R&B category.
Their second album "Choose Your Weapon" was released in 2015, featuring their hit song "Breathing Underwater" which was nominated for a Grammy Award for Best R&B Performance. The record is their first album to chart in the US, making a debut in the Billboard 200 and charting on the Billboard Top R&B/Hip-Hop Albums charts.
After some solo gigs and a journey through Breast Cancer of the band's Nai Palm, Hiatus Kaiyote came back together in 2020, after Palm's recovery. In June of 2021, they released their third album "Mood Valiant" inspired by Palm's health journey and the loss of her beloved pet amidst difficulties the world faced during the pandemic. The record hit #4 on the ARIA Charts and bagged a nomination for a Grammy Award for Best Progressive R&B Album.
With a new record dominating the jazz-funk airwaves and newfound strength, Hiatus Kaiyote is taking a step higher, gearing up for big surprises this 2023, one of which is another tour. Don't miss out on this chance to witness Hiatus Kaiyote's acclaimed live show experience by booking your tickets now!