Paramount Theatre | Seattle, Washington
Celebrating 20 years since the launch of their seminal album, Make Yourself, Incubus are on the road and they're coming to Paramount Theatre Seattle on Tuesday 17th September 2019! Make Yourself was the album that brought Incubus from locally popular funk-metal band to international stars via their biggest single, "Drive", and this summer fans will be treated to a show dedicated to the acclaimed album and all that came after!
"We are so looking forward to this fall tour," said singer Brandon Boyd. "Make Yourself was such a pivotal moment in our band and we are beyond excited to reintroduce this album to our audience while also showcasing the many musical roads it ultimately led us down. See you soon!"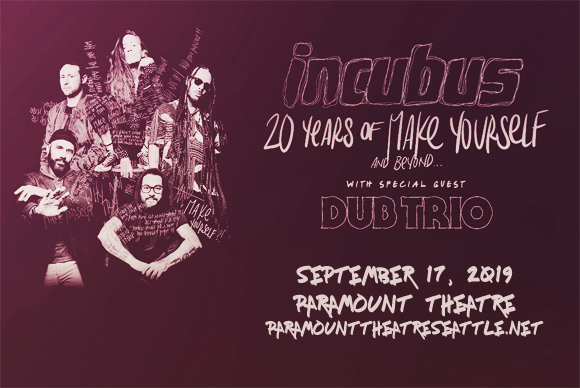 Formed in 1991 by vocalist Brandon Boyd, lead guitarist Mike Einziger and drummer Jose Pasillas, Incubus is an American rock band from Calabasas, California that now also includes bassist Ben Kenney and DJ Kilmore. The band's first two albums, Fungus Amongus (1995) and S.C.I.E.N.C.E. (1997), had a heavy, funk rock feel that evolved to include elements of pop on their third studio album, Make Yourself (1999). Eventually certified double-platinum by the RIAA, Make Yourself served as the band's mainstream breakthrough, helped by the success of its three singles: "Pardon Me", "Stellar", and "Drive", the latter of which peaked at number nine on the Billboard Hot 100 and became the band's most popular track. Their following three albums continued the wave of success for the band, and 2006's Light Grenades debuted atop the Billboard 200 – a first for the band. 8, their most recent studio album, was released in 2017.