Paramount Theatre | Seattle, Washington
Paramount Theater Seattle is proud to present you Joe Bonamassa this Saturday 21st March 2020. Catch legendary blues-rock guitarist at his Spring 2020 tour and be ready to be blown away!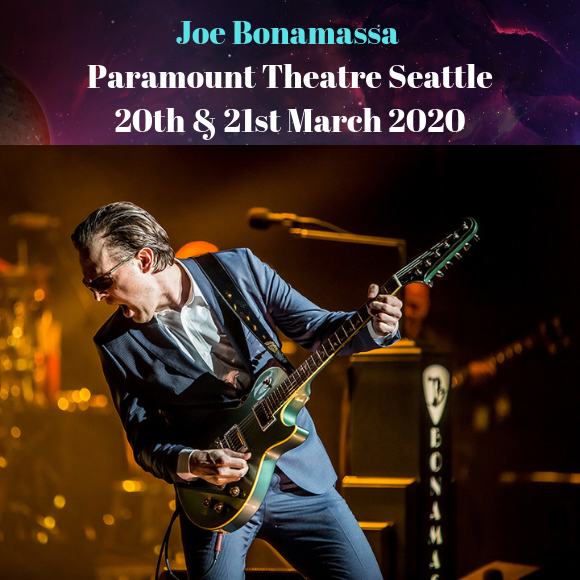 "BONAMASSA'S JUST GOOD. ONE OF A KIND. THE KIND THAT WILL BE A LEGEND BEFORE HE'S 25" – B.B. King
Joe Bonamassa has been featured on the cover of virtually every guitar magazine multiple times. In fact, his reputation precedes him among guitarists not only for being a virtuoso but also for his incredible collection of vintage guitars, gear, and memorabilia (which he now calls the Bona-seum).
Almost every album Joe has produced instantly rockets to the #1 spot. His previous studio albums have even debuted on Billboard's Top 10 album chart. His achievements prove that a Blues album could debut next to the biggest names in popular music.
Bonamassa has also played in some of the world's greatest venues – Royal Albert Hall (London, UK), Radio City Music Hall (New York, USA), and Red Rocks (Colorado, USA). When Bonamassa was a teen, he started opening for B.B. King and was expected to be a legend by the he is 25.
This Spring 2020, Joe Bonamassa will be backed by a stellar band of legendary musicians including Rock & Roll Hall of Famer and member of Stevie Ray Vaughan and Double Trouble, Reese Wynans (piano/organ), Late Night with David Letterman's Anton Fig (Drums), Nashville recording legend Michael Rhodes (bass), Paulie Cerra (Saxophone), Lee Thornburg (Trumpet) and featuring soulful background singers to bring a whole new life to the show which will feature brand new songs alongside career-spanning favorites.
Don't miss the chance to watch this blues-rock legend guitarist perform live at the Paramount Theater Seattle on 21st March 2020. Experience sound euphoria here!