Paramount Theatre | Seattle, Washington
The American heartland is so vast and so deep, yet this band took us to that place where we felt the heartbeat of American progressive rock and roll — KANSAS. Yes, Kansas is taking their fans for a wild ride, touring selected U.S. key cities to celebrate the 40th Anniversary of their massive hit album "Point of Know Return". For the first time in history, the band will be performing the album in its entirety in a concert that will showcase more than two hours of classic KANSAS music. And thank your lucky stars! Kansas – The Band is all set to make the Paramount Theatre Seattle as one of their marked stops for this epic tour, happening on Saturday 13th April 2019. Now is not the time to think twice. Booking a ticket to this show is really something that you know you have to do. Forty years of great music from an epic album is not worth missing. Fans from all over will never miss this for the world.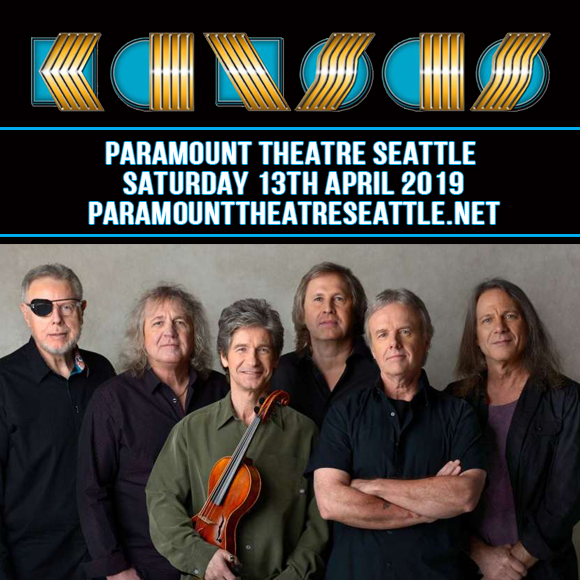 The band Kansas has definitely gone beyond their native Topeka, Kansas hometown; they've conquered the global music scene and still have a strong foothold on the airwaves with their colossal hits "Carry On Wayward Son" and "Dust in the Wind". Kansas is one of those truly iconic bands who has laid the foundations of American heartland and progressive rock. And with that, they solidified their rock lordship with album sales counting nine golds- and three multi-platinum-sellers, one other platinum studio album (Monolith), one platinum live double album (Two for the Show), a million-selling single, "Dust in the Wind", including "Carry On Wayward Son's" airplay domination, being the second-most-played track on US classic rock radio in 1995 and No. 1 in 1997.
One of their legendary albums is "Point of Know Return", often listed as one of the greatest prog rock records of all time. Forty years since its release, the album still creates a deep impact to this day. Hence, there's no better way to celebrate it than by playing it in full, in its entirety, live onstage. "From the album artwork to the song 'Dust in the Wind,' the album "Point of Know Return" is really ingrained in Rock N Roll history and even in popular culture. The past two years we have done around 80 select shows performing the album "Leftoverture" in its entirety. We have been blown away by the positive fan response. Our hope is that fans will enjoy this "Point of Know Return Tour" just as much, and hopefully even more! " , exclaims KANSAS' guitarist, and original member, Richard Williams.
All it takes is a quick trip to your favorite ticket seller and book your ticket to a show that would take you to Kansas and experience the ultimate sonic adventure of a lifetime.