Paramount Theatre | Seattle, Washington
If you just felt an unexpected shudder, like someone walked over your grave, it may well be because King Diamond are coming to tour North America! The satanic, theatrical shock rock band are headed to Paramount Theatre Seattle on Monday 25th November 2019 in support of their long-awaited thirteenth studio album, The Institute:
"For reasons unknown to you, it is clear that you have no way of making it to The Institute on your own at this point," said the iconic King Diamond of their winter tour. "Therefore, we will bring The Institute to you. You don't want to miss this special opportunity for treatment only we can give you. It could be for your own good, you know…"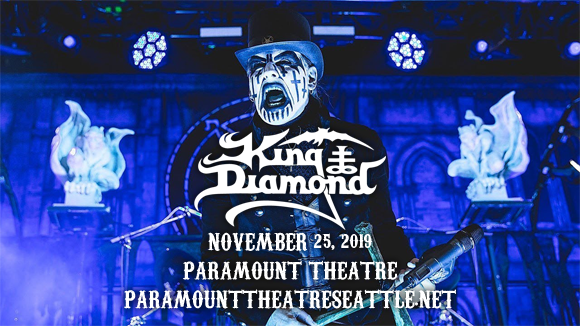 Danish heavy metal band King Diamond was formed by the eponymous vocalist King Diamond, guitarists Andy LaRocque and Michael Denner, bassist Timi Hansen and drummer Mikkey Dee in 1985, after Diamond, Denner and Hansen left the band Mercyful Fate. They are known for their theatrical, horror-themed imagery and stage shows, and for their lead vocalist's distinctive make-up and use of a unique microphone handle, which consists of a femur bone and a tibia bone in the shape of a cross. The band made its debut in 1986 with the release of the album Fatal Portrait, and has released twelve studio albums throughout its career; most been concept albums that tell various original horror tales. The track "Never Ending Hill" from their 2007 album Give Me Your Soul… Please earned a Grammy nomination for "Best Metal Performance". The band's thirteenth studio album, The Institute, is currently in production and is slated for a 2020 release.