Paramount Theatre | Seattle, Washington
Aussie psych-rockers King Gizzard And The Lizard Wizard have returned to the US! The prolific and highly entertaining band comes to Paramount Theatre Seattle on Sunday 18th August 2019 with a "new show, new songs, and new visuals!" This is amazing news for fans of the band, who've been waiting for new material for two years! Get ready for a trippy and completely unforgettable show!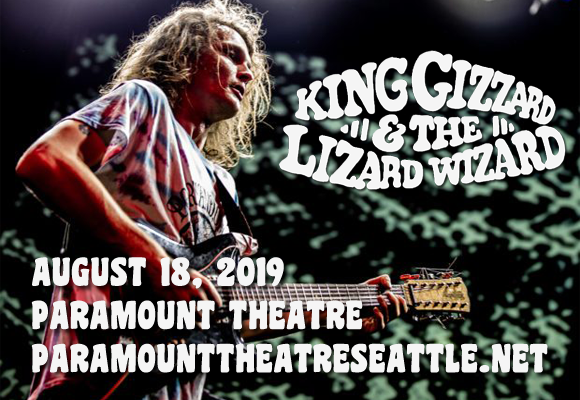 Formed in Melbourne, Victoria in 2010, Australian psychedelic rock band King Gizzard and the Lizard Wizard consists of Stu Mackenzie (vocals, guitar, keyboards, flute), Ambrose Kenny-Smith (vocals, harmonica, keyboards), Cook Craig (guitar, vocals), Joey Walker (guitar, vocals), Lucas Skinner (bass), Michael Cavanagh (drums, percussion), and Eric Moore (drums, percussion, management). Known for their colorful and immersive live shows, that showcase the band's expert mastery of a variety of genres, including surf music, garage rock, psychedelic rock, prog rock, folk, jazz, soul and heavy metal. Since 2012, the prolific band has recorded thirteen full-length studio albums since their debut, 12 Bar Bruise, with five albums released in 2017 alone. Their mos recent release is 2017's Gumboot Soup.