Paramount Theatre | Seattle, Washington
Cry Baby, aka quirky, doll-like art pop sensation Melanie Martinez, is back with her first new album in four years! Martinez releases K-12, her eagerly awaited second studio album, later this year and with it comes a full-length musical film, which means that her world tour will be bringing a whole heap of eye-candy with it! The 24-year-old singer-songwriter promises the tour will be "visually stunning and pleasing to the senses but also a fun learning experience", as well as "a safe place to express yourself and be accepted for exactly who you are"!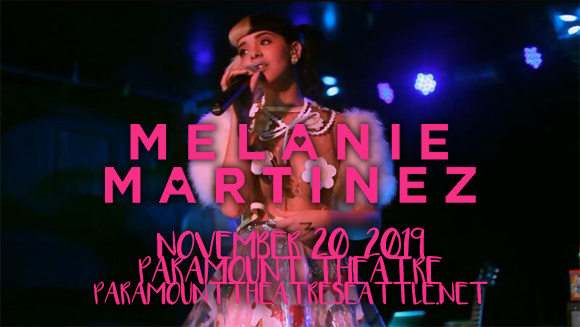 Rising to fame with her 2012 appearance as a contestant on the televised talent competition The Voice, Melanie Martinez is an American art pop singer-songwriter. After the release of her 2014 debut single "Dollhouse", which was certified platinum by the RIAA, Martinez was signed to Atlantic Records. Later in the year, she released her debut EP of the same name, which peaked at number four on the Billboard Heatseekers Albums chart and launched the gold certified single "Carousel". The following year, she released her debut album, Cry Baby, which was also certified platinum. The album launched the singles "Sippy Cup", "Mrs. Potato Head", "Cry Baby", "Pity Party" (which was also certified platinum) and "Soap". K-12, her hotly anticipated follow-up to Cry Baby, will be released later this year with an accompanying full-length film.