Paramount Theatre | Seattle, Washington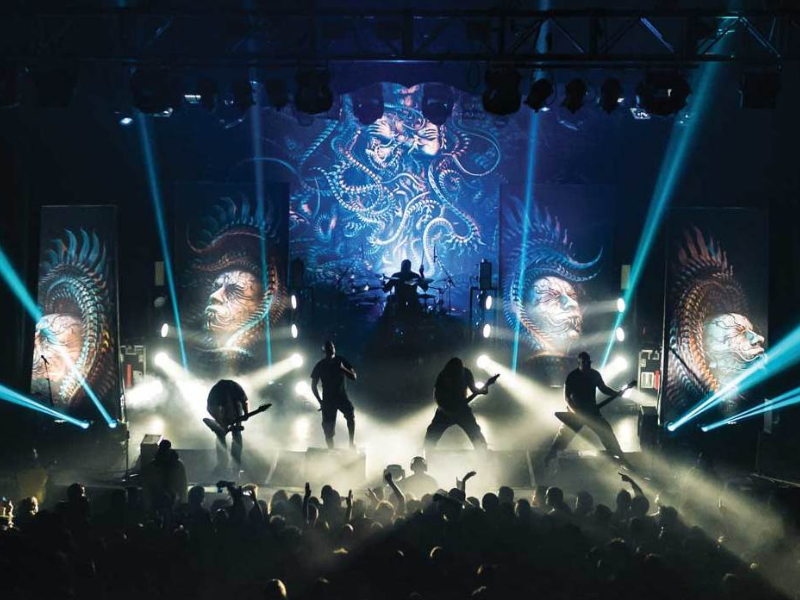 "I can live an eternity in a minute's time." - Meshuggah in Neurotica.
Swedish heavy metal band Meshuggah just announced that they're headed back to North America for a highly-anticipated tour. Best believe you can live an eternity as you savor the moment and enjoy their insane production this fall.
This year, they will be joined on tour by some of the biggest acts in metal, In Flames and Whitechapel. This once-in-a-lifetime opportunity to see all three iconic acts share a stage is one that you don't want to miss.
Save the date because they're landing at the Paramount Theatre Seattle on Friday, the 24th of November, 2023, for an unforgettable night. Prepares yourself for crazy visuals and outstanding performances. These three acts combined will give you the best metal experience of your life.
Secure your tickets to the show today by clicking "GET TICKETS," and be quick because the show is almost sold out.
Meshuggah, which derives its name from the Hebrew and Yiddish words for "crazy," is a five-piece Swedish band created in 1987 in Umeå, Sweden. The band's sound can best be characterized as djent or groove metal with a jazz element. Extended polymetric stretches, polyrhythmic percussion patterns, angular, dissonant guitar riffs, and harsh vocals are used. Except for bass, which has been handled by a variety of people since the band's inception, their lineup has always been consistent. Jens Kidman (vocals), Mrten Hagström (rhythm guitar + backup vocals), Fredrik Thordendal (lead/rhythm guitar + backup vocals), Dick Lövgren (bass), and Tomas Haake (drums) make up the band. Meshuggah is widely regarded as an influence on a wide range of modern metal bands, from Textures to Tool. Critics and musicians view them as pioneers.
Metal Injection wrote about the band's latest release, calling them pioneers of the genre, and said, "Most bands could only dream of being where Meshuggah is after three decades. The progressive metal masters spent twenty years waiting for everyone else to catch up, then ten years being the coolest kids on the block. Meshuggah helped create the modern scene, and they are firmly established as one of the most important metal groups of all time. That doesn't mean they still can't surprise us. Immutable might not be as heavy as Meshuggah's last few albums. But it's also the most accessible thing these trailblazers have ever put out."
The legendary metal band is set to head on a North American tour this fall, and the fans cannot wait for this. This is your chance to immerse yourself in one of Meshuggah's spectacular shows and catch your favorite hits live. Some of their best hits are "Bleed," "Demiurge," "Rational Gaze," and "Combustion" - we can only hope that they perform all of these songs live.
Meshuggah will land at the Paramount Theatre Seattle on Friday, the 24th of November, 2023, and they're bringing very special guests along - Swedish metal band In Flames and American deathcore band Whitechapel.
This is a rare opportunity to catch some of the best bands in the metal scene sharing a stage. Buy your tickets right now before it's too late.