Paramount Theatre Seattle | Seattle, Washington
Neil deGrasse Tyson brings you the secrets of the universe in his lecture Cosmic Collisions at Paramount Theatre Seattle on April 16, 2024! This is for everyone who has questions bigger than life! Tyson will bring you the farthest reach of science and package it in an entertaining and straightforward way. Ever wondered why aurora borealis happens? Or did you once ask why craters are in perfect circles and where the rock goes? In this extraordinary talk, he will give you a glimpse of what it's like when two galaxies collide, what happens to dark matter, the possible connection between the Big Bang and Big Rip, and many more. You don't need a vast amount of knowledge to enjoy the knowledge of space. All you need is to be curious! Come join us in the historic Paramount Theatre in Seattle and get your thinking cap because a mind-blowing experience awaits! Buy your tickets now!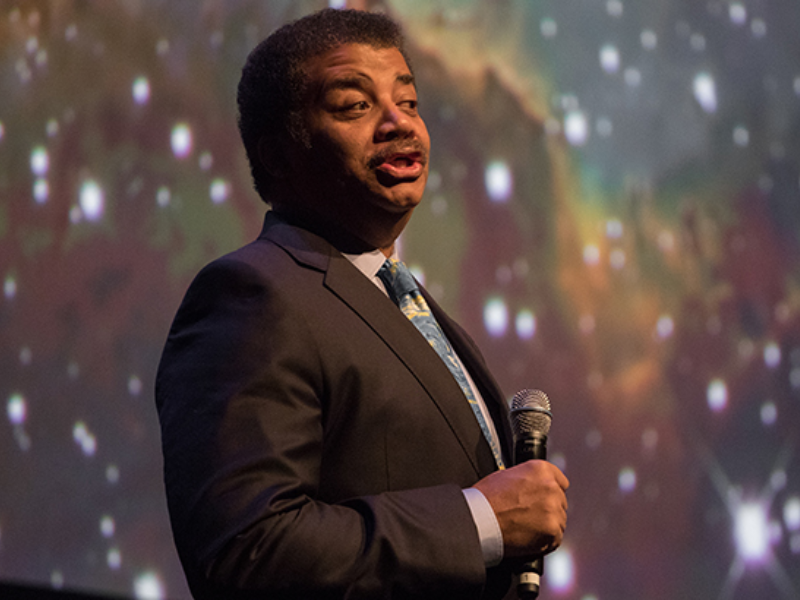 Neil deGrasse Tyson is a known astrophysicist and author with a fantastic talent for communicating science in an easy, digestible, and highly entertaining way. He has studied at Harvard University, the University of Texas in Austin, and Columbia University.
He researched cosmological observations, stellar evolution, galactic astronomy, bulges, and stellar formation. Over1 his career, he held positions in Princeton University, the University of Maryland, the American Museum of Natural History, and the Hayden Planetarium.
He had written columns for Natural History and City of Stars magazine. During Bush's presidency, he was appointed to work for the Commission on the Future of the United States Aerospace Industry in 2001 and President's Commission on Implementation of United States Space Exploration Policy (dubbed as Moon, Mars, and Beyond) in 2004. He also received an award: NASA Distinguished Public Service Medal, the highest civilian honor by NASA.
In the mid-2000s, he hosted a miniseries called Origins for PBS Nova Series. He co-authored a volume for the series with Donald Goldsmith and collaborated with him again as a narrator of 400 Years of the Telescope, a documentary that premiered on PBS.
He held positions in Planet Society and became the chairman of the board. He became the PBS program's Nova ScienceNow host until 2011. He also became a regular on "The Universe", a popular series on The History Channel.
By 2009, he launched StarTalk, a one-hour radio talk show with his cohost Lynne Koplitz. A Youtube series of the same name was announced in 2012. By 2014, he presented Cosmos: A Spacetime Odyssey to revive Carl Sagan's television series, Cosmos: A Personal Voyage.
He has written fifteen books, including "The Sky is Not the Limit: Adventures of an Urban Astrophysicist," which is his memoir, and "Origins: Fourteen Billion Years of Cosmic Evolution". You can also find playful and informative narratives in his books like "The Pluto Files: The Rise and Fall of America's Favorite Planet," and "Death by Black Hole and Other Cosmic Quandaries," both of which became New York Times Bestsellers.
His recent works include "Astrophysics for People In A Hurry," which became a domestic and international bestseller. As the title suggests, the book discusses news of the universe, succinctly presented and entertaining for people in a hurry.
If you're a fan of Tyson, this talk will be a treat for you. If you aren't, but you're interested in science, in theories of old and theories way bigger than we can observe, this will be a treat for you. And if you're not too keen, hey! This might pull you into the magic of cosmic collisions.
Make sure to grab your tickets right now, and we'll see you in Paramount Theatre Seattle on April 28, 2024!