Paramount Theatre | Seattle, Washington
Peppa Pig comes to Paramount Theatre Seattle on Sunday 22nd March 2020, and she's having her Best Day Ever! Join Peppa, her brother George, Mummy Pig, Daddy Pig, and lots of her friends, family and neighbors in this brand new musical adventure that involves all of Peppa's favorite things, including muddy puddles, ice creams and more! Your child will be enthralled by the songs, dancing, games and interactive performace, as well as the fun, magic and bright colors! Perfect for children of pre-school age, Peppa Pig Live is a brilliant adaptation of a beloved kid's show!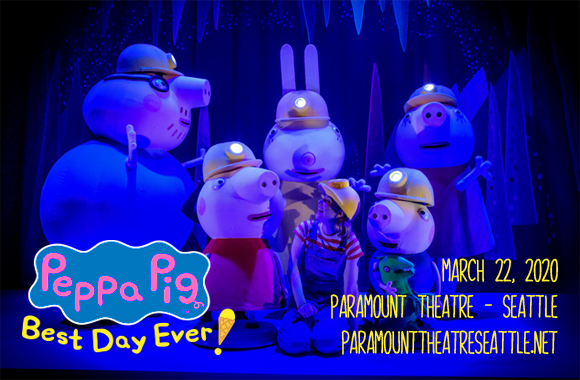 Originating in 2004 as a British preschool animated television series on Nick Jr., Peppa Pig is now one of the world's biggest kid's TV shows – shown in 180 territories across the globe, including the UK and US, as well as becoming a franchise that includes books, films, video games, a theme park and a variety of merchandise that is hugely popular with children all around the world. The show follows Peppa, George, Mummy and Daddy Pig, as well as their friends, neighbors and family, as they experience the adventures and everyday activities of life. Peppa Pig Live is a touring stage show that continues the magic of the television program, bringing it to life on stage in an interactive experience that includes singing, dancing, games and state-of-the-art puppetry. Aimed at pre-school children, Peppa Pig Live is perfect for your little one's first ever theatre show.