Paramount Theatre | Seattle, Washington
Not one, not two, but three heroes will come and save the day! Watch Catboy, Owlette, and Gekko, collectively known as PJ Masks are jumping from your tv screens on to the live stage for some fantastically crime-fighting live action. PJ Masks comes to Paramount Theatre Seattle on Saturday 16th February 2019 to give kids and adults alike a delightfully entertaining super-heroic, live musical show. Based on the top-rated animated series aired on Disney Junior, PJ Masks has a captured audience of pre-schoolers, school age kids, and parents too. Hence, this show will surely be a family affair; an ideal moment for family bonding time. Save the date and save a seat for the entire family. Do this by booking your tickets early on so all family members would be seated together — laughing, applauding, singing, and simply enjoying this action-packed show.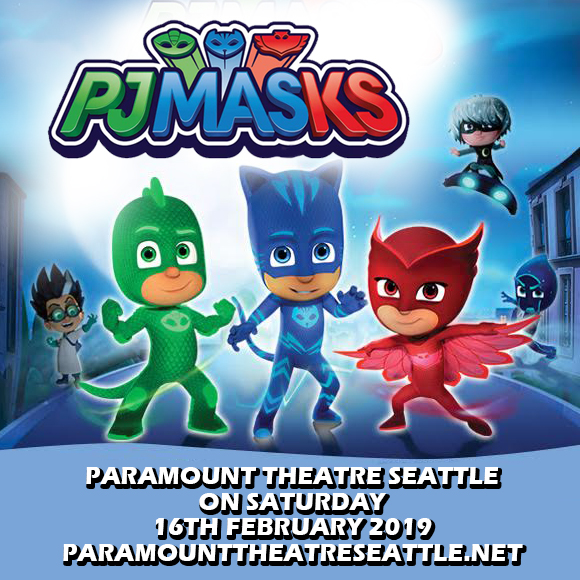 Disney Junior's most famous kid superheroes are taking over the live stage to delight fans of all ages with live action-packed adventures and musical performances featuring world-class production, toe-tapping tunes and a whole lot of super fun. PJ Masks Save the Day Live! They will take you to the edge of your seat asCatboy, Owlette and Gekko along with their new friend PJ Robot, try to save the day from sneaky villains – Romeo, Night Ninja and Luna Girl! Fluttering Feathers! Leaping Lizards! What a CAT-tastrophe! Leaping, flipping and climbing – all these exhilarating moments will happen live on stage, including favorite tunes and brand new songs never-before-heard-on-tv.
"Seeing their favorite characters from the PJ Masks series come to dynamic life on stage has been a truly super experience for young fans and their families throughout the U.S. and Canada," said Stephen Shaw, President of Round Room. "We look forward to presenting this new action-packed musical adventure to even more fans next year."
This high-energy production will keep kids engaged, intrigued, amazed, and excited from start to finish. Moms and dads will truly treasure seeing their kids' eyes light up with delight and feeling sheer joy all over. Make this a family affair and a lasting memory that they will carry on forever. All you need is to book those tickets, and you'll be well on your way to this family adventure.