Paramount Theatre | Seattle, Washington
Fans of indie rock, psychedelic rock, and experimental pop, take note. Portugal. The Man are coming to the Paramount Theatre Seattle on Thursday 20th July 2017! Tickets on sale now and selling out fast – don't delay in getting yours!!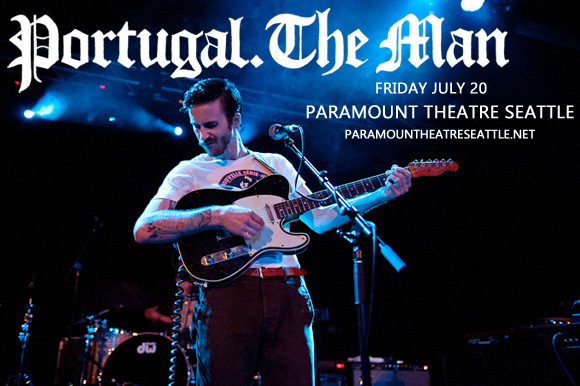 Formed in Walkiska, Alaska, in 2004, Portugal. The Man formed from the band members of a separate band, "Anatomy Of A Ghost." John Gourley, frontman and principle songwriter, fronted the band with no previous singing experience! Following the breakup of Anatomy Of A Ghost, Gourley's side project, formed of him, a drum machine and Sach Carothers on bass, took off, gaining members Wesley Hubbard, Nick Klein and Harvey Tumbleson to form Portugal. The Man. The band left for Portland to tour, and signed with Fearless Records. Their first album, "Waiter: 'you vultures!'" produced by Casey Bates, was released to a huge positive reception from critics and audiences alike.
Since then, the band have seen a series of successful albums, including "Church Mouth," "In The Mountain In The Cloud," and "Evil Friends," produced by Danger Mouse. The band have released the incredible single "Noise Pollution," from their upcoming new album "Woodstock," and more recently "Feel It Still," which you can listen to below. The new tracks feature a more synth-led, highly arranged sound that despite the multiple layers, is probably their freshest and sharpest effort yet! The album is due out in June 2017 – be among the first to hear the new songs live!! Get your tickets to see Portugal. The Man TODAY!!!