Paramount Theatre | Seattle, Washington
A true poet of our time, bestselling writer and illustrator Rupi Kaur comes to Paramount Theatre Seattle on Friday 12th October 2018 on her 2018 America Tour! The Canadian poet brings theatrics and musicality to her performances, which are a far cry from a traditional poetry reading… But Kaur is far from a traditional poet! A much-needed feminist voice in the often male-dominated world of the poet, Kaur's voice rings strong and true, but with a delicate and candid nature that has earned her a global following. Book now to avoid disappointment!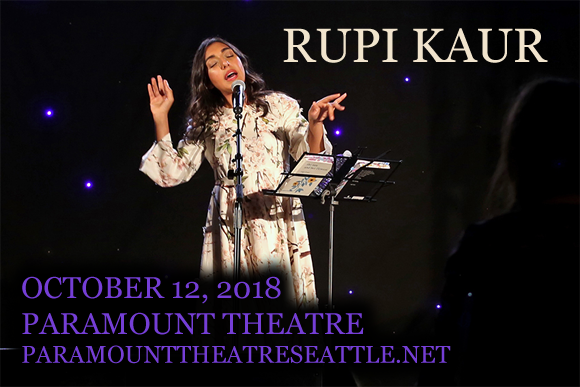 Indian born Canadian poet, writer, illustrator, and performer Rupi Kaur first came to public attention on Instagram when her posts, which featured her poetry and simple illustrations, drew over a million followers in a very short space of time, leading to global interest. Her first poetry anthology, Milk and Honey, was published on November 4, 2014 and is a collection of poetry, prose, and hand-drawn illustrations. As a way to honor her culture, Kaur's poetry is written exclusively in lowercase and uses only the period as a form of punctuation in the tradition of Gurmukhi script. Milk and Honey has been translated into 25 languages and appeared on the New York Times Best Seller list for over 77 weeks. Kaur's second book, The Sun and Her Flowers, was released on October 3, 2017 and ranked in the top ten of both the Amazon and New York Times Best Sellers lists.