Paramount Theatre | Seattle, Washington
Worldwide comedy sensation Russell Peters comes to Paramount Theatre Seattle on Sunday 10th February 2019 on his Deported World Tour! The Emmy, Gemini and Peabody Award-winning comedian brings his uncensored, astute observational humor to the stage for the first time since 2016, ready to get the crowd in a frenzy! Be warned, Peters is not for the feint of heart:
"I don't think political correctness has any place in comedy. Comedians are truth tellers. We have to be able to express ourselves without worrying about people's sensitivities. We don't set out to offend but there's always going to be someone who processes what you're saying through their own filters – we can't control that. Comedy isn't for the sensitive."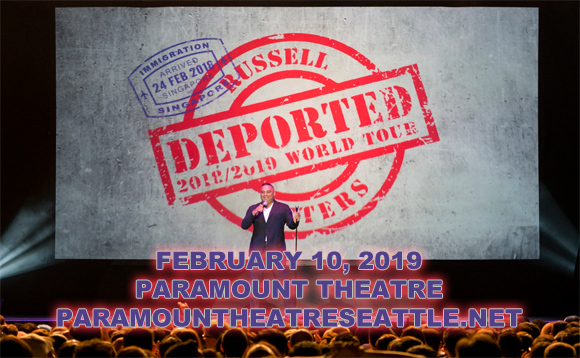 Russell Peters first began his career as a stand-up comedian in Toronto in 1989. Known for his use of observational comedy, Peters' 2004 performance on the Canadian TV comedy show Comedy Now!, which featured humorous segments about various cultural groups, went viral on YouTube, bringing his comedy to an international audience. Four years later, Peters hosted the 2008 Juno Awards, for which he won the Gemini Award for "Best Performance or Host in a Variety Program or Series". Peters' 2013 Netflix comedy special Notorious was the first of its kind and that year, he was ranked third on Forbes' list of the world's highest-paid comedians. As well as his stand-up career, he has acted in several films and in 2016 produced the Netflix documentary Hip-Hop Evolution, for which he won the Peabody Award and the International Emmy Award for Best Arts Programming.