Paramount Theatre | Seattle, Washington
Silent Movie Mondays feature film, Aelita Queen of Mars at Paramount Theatre Seattle on Monday, December 6th, 2021. With music by Tedde Gibson on the Mighty Wurlitzer Organ. Aelita Queen of Mars takes you from Moscow to Mars in one of the earliest full-length films about space travel directed by Yakov Protazanov. While seeing Russian life after the Revolution, the most notable part of the film remains its remarkable constructivist Martian sets and costumes. Their influence can be seen in a number of later films, including the Flash Gordon serials and Fritz Lang's Metropolis.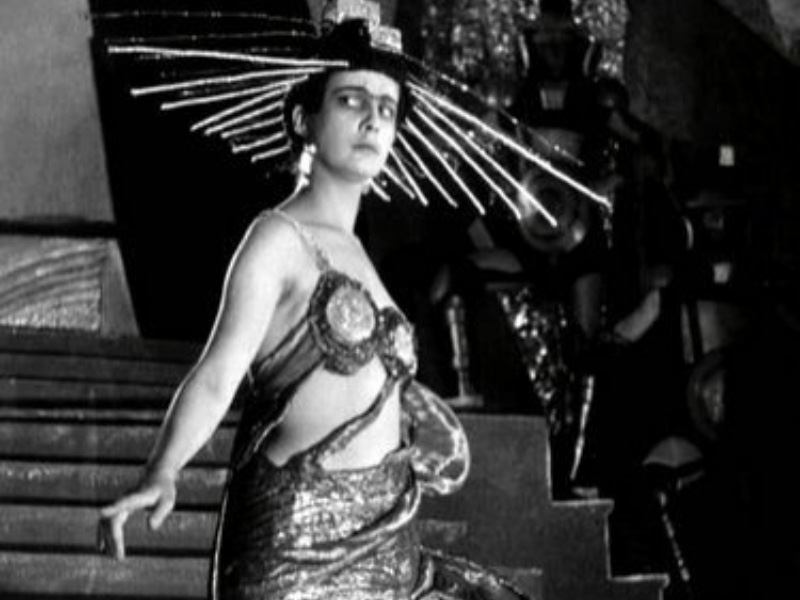 Rarely seen, it's known mostly from photos featuring oddly-garbed women posing amid disorienting geometric shapes. Foreign distributors saddled it with the embarrassing subtitles "Queen of Mars" or "Revolt of the Robots." In 1929, Aelita was described by the New York Times as "far more interesting to read about than to gaze upon." By 1948, the film had taken on chimerical characteristics. British filmmaker and critic Thorold Dickinson wrote, "It would be interesting to meet someone who has actually seen Aelita."
However, the film resonates in films noir and in the work of filmmakers as diverse as Andrei Tarkovsky, Alfred Hitchcock, and David Lynch.
The film's script is based on a 1923 novella by Aleksey N. Tolstoy, a distant cousin of War and Peace author Leo Tolstoy. While both stories are set after the Bolshevik Revolution, the film, unlike the novel, is primarily concerned with the Russian Civil War. Tolstoy's novella is a romantic fantasy of space travel that features a decadent race of Martians descended from the survivors of ancient Atlantis. Protazanov's film abandons the Atlanteans, making the science fiction secondary to a melodramatic representation of the harsh conditions Soviet citizens faced during the Civil War, a subject hardly broached in the novella. To meet the needs of the state, Protazanov depicts the class struggle and stirring images of the new nation building a future through engineering, toil, and big machinery. To help ensure the film's success at home and abroad, Protazanov throws in a comic subplot, a romantic triangle, and a murder.
Running time for feature: 104 minutes.
Feature provided by National Film & Sound Archive of Australia.
Projection DCP.
Pre-film introduction & post-film CineClub discussion hosted by special guest Emalie Soderback, Co-Host of Scarecrow Video's "Viva Physical Media." Curator & moderator Vicky Lee.