Paramount Theatre | Seattle, Washington
Riot grrrl power rages on! This music movement can never be pinned down. Sleater-Kinney makes it sure to keep it alive and kicking as the band forges on with a tour that's definitely going to be a riot. One of Sleater-Kinney's highly anticipated performances is bound to make a lot of noise at the Paramount Theatre Seattle on Sunday 24th November 2019. Long-time devoted fans never sleep on news such as this. They jump the gun in order to score tickets. This hot ticket is just waiting for the right hands that would grab it in the nick of time. No time to waste, book your tickets now!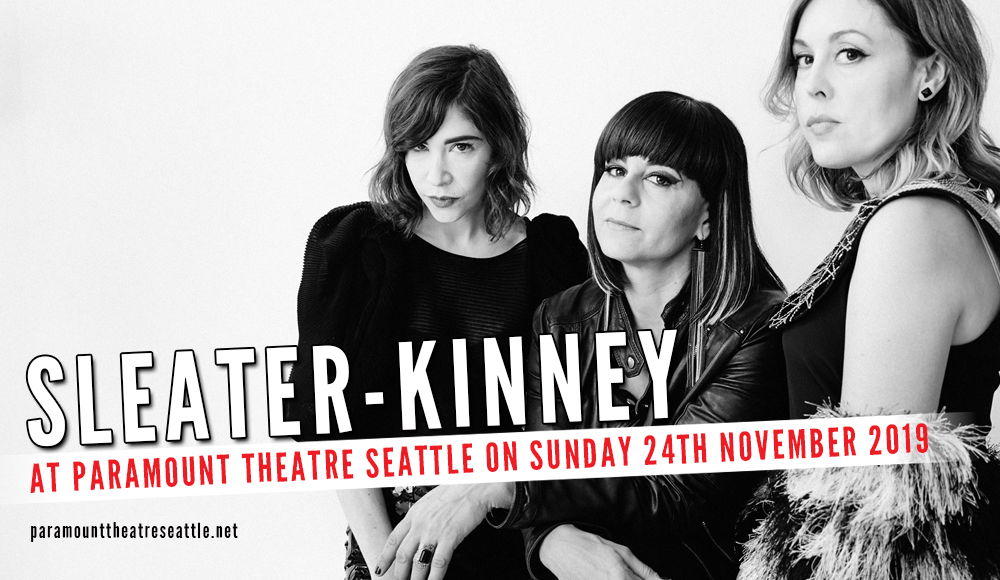 As Sleater-Kinney started to make a name for themselves in the Pacific Northwest's indie rock scene, they chose to move onto uncharted territories. Lo and behold, the riot grrrl movement was born. They rocked hard not only with their punk-driven sound. But they made a lot of noise with their feminist and left-leaning political statements. Guitarist and vocalist Carrie Brownstein was quoted saying, "Sleater-Kinney are brave enough and strong enough to make a difference and get the word out."
Founded by Corin Tucker, Janet Weiss and Carrie Brownstein in early 1994, their eponymous debut album, followed by Call the Doctor (1996) and Dig Me Out (1997), turned them into darlings of music critics and the latest obessions of punk rock fans. They made an indelible mark with their hit singles "One More Hour," "Modern Girl" and "You're No Rock 'n' Roll Fun."
After their seven-year hiatus, Sleater-Kinney still found their adoring fans patiently waiting and anticipating their next move. In 2014, they re-convened with announcing a tour for their new album "No Cities to Love" (2015), touted as their highest charting and biggest commercial hit, so far, which peaked at number 18 in the US and at number two on the US Independent Albums chart.
There's no power outage here. The intensity rages on. This electrifying concert comes with a hot ticket. Grab one now!