Paramount Theatre | Seattle, Washington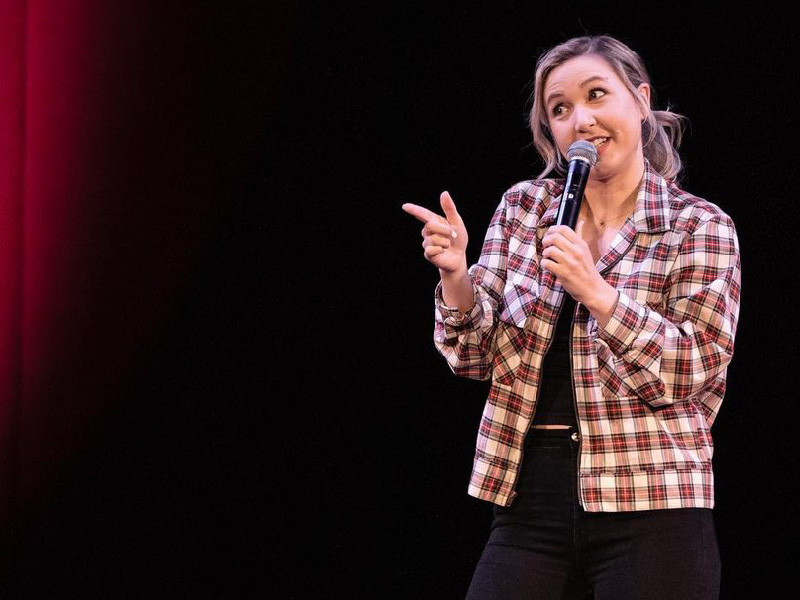 Undeniably one of comedies leading ladies, pushing the envelope and driving the golden age of American comedy, ladies and gentlemen, put your hands together for Taylor Tomlinson! Live at the Paramount Theatre in Seattle on Saturday, October 21st, 2023. It's gonna be a night of good old honest life stories, where she talks about her Dad, and getting laid… not in the same joke! A child prodigy of the comedy world, Taylor has been entertaining fans, since she was a brat of 16, with her impeccable timing and musings on all things from mental health, popular culture, and relationships.
Grab some tickets right now, as this lady always sells out venues and these will not last long! This is Taylor's, Have It All Tour, and she really is one to take that seriously, aiming to be one of the first millennials to actually be able to afford to pay her rent this year!
The, Have It All Tour, from Taylor Tomlinson, what's it all about then? Well, in her own words, "everyone has a different age in their head of, 'This is when I'm gonna have x, y, and z – this is when I'm gonna have everything figured out.' But life just doesn't work like that. At all," she said, during an interview. "Everybody in my life, in their 20s and 30s, they may have their dream job – but they're not married. They might be married – but they don't know if they want kids. Or they may have kids – but they don't have the dream job. Or they got divorced. So that's kind of the overarching theme of 'Have It All,'" she explained.
As one of the countries youngest, and certainly easier on the eyes than a bald fat man with no shirt on, Taylor is well known for her millennial brand comedy, dealing with touchy subjects like trauma, her Dad, and finding a man to have his way with her. She got her small screen break with Netflix in "The Comedy Lineup" back in 2018, which led to her very own special in 2020. "Quarter-Life Crisis," totally blew up in views, thanks in part to a lot of us sitting at home for an extended period of time, but that's the beauty of comedic timing, you never know when you will strike gold. But Taylor certainly did! And by 2021, she had made the prestigious "Forbes 30 Under 30" list.
In early 2022 she released yet another special on the streaming platform, "Look at You" hits you right in the feels amidst life seasons, hilariously sending her messages, and deeply dark sense of humor, into the crowd. The Los Angeles Times notes that "even when she's navigating painful waters, she can't help but find the humor." That definitely hits the spot.
So, what ya waiting for? The golden age of comedy can't last, and you're unlikely to find a better gig than this one right now, so put on your big boy pants, pull out that credit card and get ready to spend a night with Taylor! In a wholesome, hilarious and completely consensual way of course, get your tickets here, right now!