Paramount Theatre | Seattle, Washington
Calling all blues rock aficionados – the amazing Tedeschi Trucks Band is on their way to the Paramount Theatre Seattle for Sunday 5th November 2017 for a mind-blowing showcase of raw guitar riffs from Derek Trucks and stunning soulful vocals from long-time partner and fellow band leader Susan Tedeschi! Tickets are available – book early, as they won't last long!!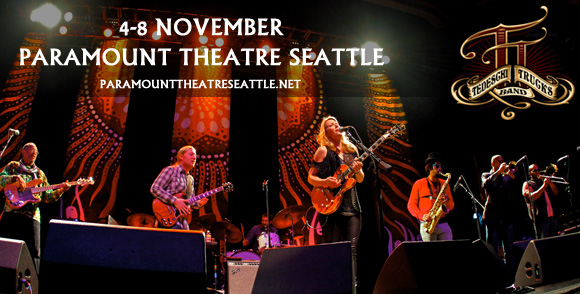 Now in their seventh year since the band's formation in 2010, the Tedeschi Trucks Band are in their prime. With their most recent album released 2016 – their third since "Revelator," their Grammy-award winning debut – the band has expanded to include a lineup of no less than12 highly talented touring musicians!
"It definitely took time for us to get here," reflects Derek Trucks. "I think the connections we have in this band and among the crew and extended family are the real reason why. I look around the stage every night and am just in awe of the situation—the music's amazing and road-tested and we all really like each other. That's what I hear in the music on this new album—this feeling that we're now putting 100% of what we have into this band, not going back to anything else, not having anywhere else to go."