Paramount Theatre Seattle | Seattle, Washington
Your favorite indie alt-rock sensation, The Backseat Lovers, is spilling the tea on their highly-anticipated world tour. After the success of their new sophomore record featuring their new singles "Growing/Dying", "Close Your Eyes", and "Slowing Down", the band is gearing up to electrify the stage at their just-announced Waiting To Spill World Tour. The "Kilby Girl" composers are set to prove that their unique take on the alt-rock genre is deserving if the world stage. Don't miss out on the Waiting To Spill World Tour happening at Paramount Theatre Seattle on Wednesday, 19th of April 2023 by booking your tickets now!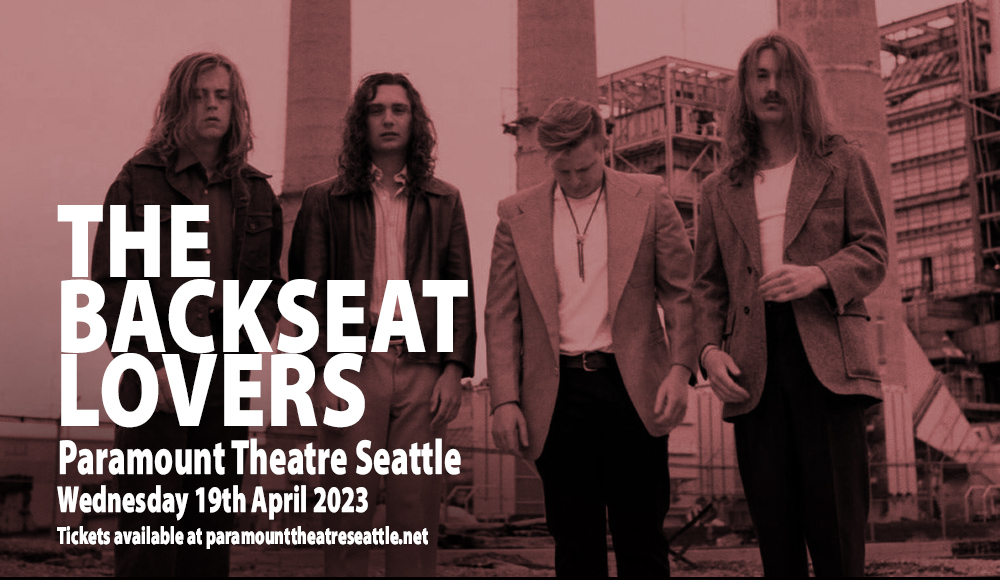 Founded in 2018, The Backseat Lovers made their first waves in the indie scene, winning a "battle of the bands" contest at Velour. In June of 2018, they released their first EP, "Elevator Days". It was in 2019 when the band strikes against the current, gaining massive attention with their debut full-length album "When We Were Friends", which featured their hit single "Kilby Girl". By 2022, the hit track has garnered over a hundred million streams for its catchy and unique alt-rock sound.
With a new album out on the airwaves, receiving much praise for their life-affirming take on alt-rock. "Waiting To Spill" features their new singles "Growing/Dying", "Close Your Eyes", and "Slowing Down". Taking their signature energy and striking alt-rock legacy to the next level, The Backseat Lovers are definitely masters of their craft.
With a world tour in the works, the band looks forward to sharing their new tracks and crowd-favorites to the live stage, for the world to witness.
Coming fresh from a gig in Omeara, the band realizes its love for intimate shows, catching the crowd singing along and sharing their intense energy as they strike every chord and belt every note to their lyrical masterpieces.
"I personally love playing intimate venues like [Omeara], so it was really exciting to be able to do that again in London," bassist KJ Ward told NME. "Our first tour was basements of houses and smaller clubs, so it's very nostalgic to go back to [our] roots and play a venue like that."
"We all kind of prefer it – just so we can get to know the fans a little more." added band drummer Juice Welch.
With members who are "barely old enough to drive" as described by Third Coast Review, The Backseat Lovers' new record "doesn't sound like something a bunch of teenagers dreamt up, instead standing as a pretty remarkable artistic effort" the publication said in its review of "Waiting to Spill".
Living in a daydream of their wild Omeara gig, people were singing so loud that the band couldn't even hear themselves anymore. In an interview with NME, they share that "It's a very beautiful thing. It's kind of hard to put into words." shares Joshua. "It's just fun to be in one space as a group and be collectively in the moment, and having a good time all together." added Juice.
With a roster of electrifying new songs featuring their signature alt-rock blend, The Backseat Lovers can't wait to spill the tea at the Waiting To Spill World Tour. Book your tickets now!