Paramount Theatre | Seattle, Washington
Poppin' and lockin' its way into the holiday season, The Hip Hop Nutcracker comes to Paramount Theatre Seattle on Saturday 16th November 2019 for two nights in a row – presenting a jaw-dropping, utterly original take on Tchaikovsky's story of Christmas cheer! Expect Maria-Clara, the Nutcracker Prince and all your favorite characters as you've never seen them before in this inventive reworking of E.T.A. Hoffman's cherished festive story! "…a journey that celebrates love, community and the magic of the holiday season!"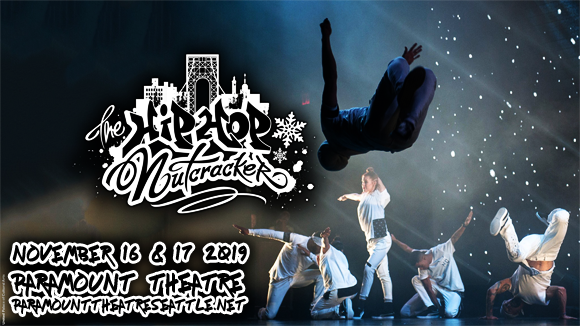 Bringing a holiday classic into the modern age and giving it some MOVES, Hip Hop Nutcracker is a re-imagined remix of Tchaikovsky's timeless ballet, with contemporary hip hop choreography and a compelling take on this beloved festive story. With a dynamic cast of electrifying, big league dancers alongside the inimitable DJ Boo, classically-trained violinist Jarvis Benson and, of course, the one-and-only hip hop legend Mr Kurtis Blow, The Hip Hop Nutcracker is the ultimate fresh take on this magical Christmas magnum opus!
"A generous dose of contemporary spirit sure to heat up even the most restless and wintry of souls."
– The New York Times
"The Hip Hop Nutcracker turns Tchaikovsky on his head, in the coolest possible way."
-CBS
"A truly one-of-a-kind experience, filled with high-powered choreography and a very modern storyline"
– Elle Magazine