Paramount Theatre | Seattle, Washington
Alt-rock pioneer and Radiohead frontman Thom Yorke comes to Paramount Theatre Seattle on Sunday 20th October 2019 to promote his brand new album, Anima! The album, which will be accompanied with a musical film by US filmmaker Paul Thomas Anderson that will be released on Netflix on the same day as its release, will be performed on stage with help from Yorke's frequent collaborators Nigel Godrich and audiovisual artist Tarik Barri (known as Tomorrow's Modern Boxes). Get ready to be immersed in dystopia by this incredible performer!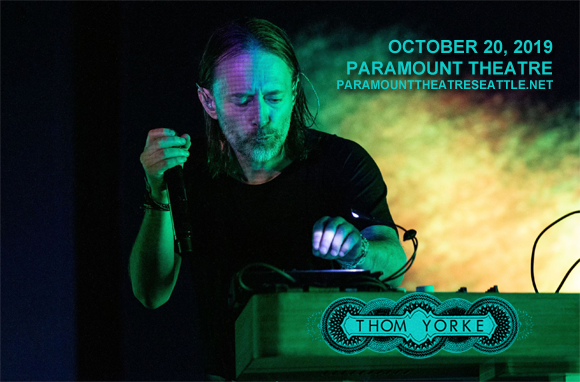 Best-known as the lead singer and principle songwriter of British rock band Radiohead, English musician Thom Yorke is a multi-instrumentalist who first rose to fame in 1992 when the band released their debut hit single, "Creep". Over the years, the critically acclaimed band has sold over 30 million albums worldwide and has been highly influential in the music industry both in terms of their musical legacy and the way they have navigated the industry itself. In 2006, Yorke released his debut solo album, The Eraser, which reached the top ten in the UK, Ireland, United States, Canada and Australia, and was nominated for the 2006 Mercury Prize and the 2007 Grammy Award for Best Alternative Music Album. It was followed by 2014's Tomorrow's Modern Boxes. His third studio album, Anima, is due for release in 2019. In 2016, Yorke was inducted into the Rock and Roll Hall of Fame, alongside the other members of Radiohead.