Paramount Theatre | Seattle, Washington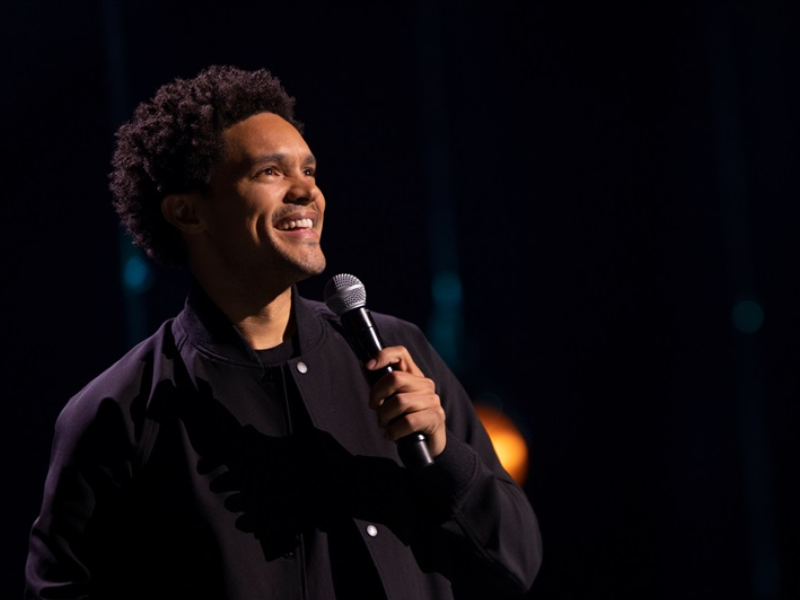 STG Presents and Live Nation welcomes Trevor Noah live at the Paramount Theatre Seattle on Tuesday, March 19th! As part of his "Off The Record" tour, the star has been on the road for the entire year, visiting major cities across the U.S. on this ongoing 40-date trek. Currently, Trevor Noah is the top comedian in Africa and is best known for hosting the Peabody and Emmy Award-winning The Daily Show on Comedy Central. Under his direction, the show has branched out into more social content, several digital series, podcasts, and more for its international audience! Trevor's triumphs also extend to sold-out stand-up comedy gigs on five different continents, as well as being invited to host the Grammy's for two consecutive years. The Paramount Theatre is a venue that is nothing short of spectacular when it comes to presenting intimate and engaging shows. So, drive down to Washington for a hilarious event that will make your trip a worthy one! Buy your tickets now!
Catch Comedy Central's finest, Trevor Noah, at the Paramount Theatre Seattle on Tuesday, March 19th, as he continues his "Off The Record" tour! If you can't make it on that date, don't worry because the comedian is scheduled to perform at the venue for five more nights.
Trevor Noah is a man of many talents; he is a writer, producer, actor, political commentator, and former television host. For seven years, he served as the host of The Daily Show, a popular American satirical news program that recently landed a series of seven esteemed Emmy Award nominations.
Late in September last year, Noah announced that he would be stepping down from his role on Comedy Central with the desire to return on the road to explore and learn more about the world. "I miss learning other languages, I miss going to other countries and putting on shows, I miss being everywhere and doing everything," he shares.
For years, the South African native has produced, written, and starred in twelve comedy specials, including the latest Netflix show entitled "I Wish You Would," where he jokes about learning German, horror movies, and ordering Indian food. Prior to this release, his special "Trevor Noah: Son Of Patricia" earned an NAACP Image Award for Outstanding Variety Show and a prestigious Grammy Award nomination.
Wrapping up the India leg of his ongoing tour last month, his performance was commended by many as a charming and gleeful 90-minute run that powerfully showcases his hold over the craft, given that he was able to present a full show of observations about a country he had only set foot in ten days ago. "By structuring the entire show around observations about his short visit to India, Noah flipped the script on the more seasoned comedy fans in the audience."
Still on the lookout for an exceptional and entertaining Tuesday night? Trevor Noah at the Paramount Theatre is definitely the one for you! On March 19th, head down to Washington as he delivers his pranks and jests at the renowned Seattle stage. Purchase your tickets now while they're still available!