Paramount Theatre | Seattle, Washington
'Are you bored yet? When boredom strikes, jam to live music! It's been a while, but as stages around the country have come back to life, Wallows, is making a stop at the Paramount Theatre in Seattle on Friday, 1st April 2022 for their tour. The alternative rock band behind the certified platinum, fan-favorite, hit single "Are You Bored Yet" ft. Cairo just recently dropped a new single, "I Don't Want to Talk" after they released a deluxe version of their EP "Remote" earlier this year. Jam, vibe and sing along the catchy beats of "Are You Bored Yet", "Pleaser", "Sun Tan", "OK", and more fan-favorites live on stage. Book your tickets now!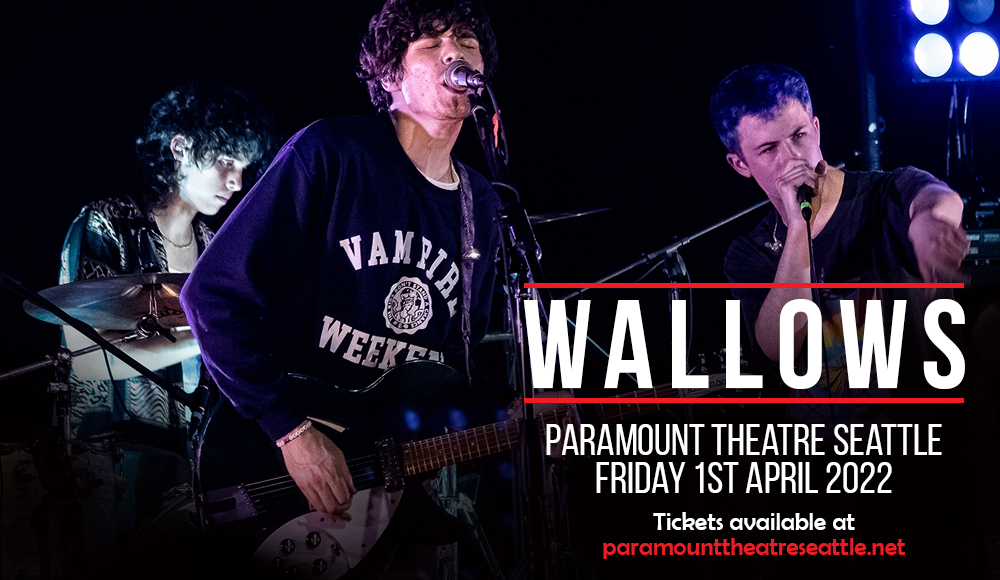 Before becoming Wallows, the band went on with a few name changes with their roots tracing back to 2011 as members Braeden Lemasters, Cole Preston, and Dylan Minnette came together with now-former member, Zack Mendenhall, as "Join the Band" in a music program. Then they took the name "Feaver" and played in the 2011 Warped Tour, then became "The Narwhals", and by 2017, they finally had an identity as "Wallows" inspired by a skateboarding spot from a videogame.
Their first single as Wallows was "Pleaser" which gained attention and reached #2 on the Spotify Global Viral 50. This was followed by singles "Sun Tan" and "Uncomfortable". By 2018, they signed under Atlantic Records and released their debut label EP "Spring" that featured singles "Pictures of Girls" and "These Days".
By 2019, the band dropped their certified platinum single "Are You Bored Yet?", and released their debut album "Nothing Happens" that took a place in the Billboard 200. The following year, they dropped their next EP "Remote" and a deluxe version in early 2021.
Their latest single "I Don't Want to Talk", "is ultimately a song about insecurities" said member Dylan Minnette. "..the fear of being away from someone for too long and ultimately allowing the other person's head to be turned by someone else… and not wanting to talk about it all" as he explained.
As they embark on a tour, who'll do the talking? Hmmm, but one thing's for sure, they'll want you to sing along as they perform your fan-favorite tracks. Don't miss out on seeing Wallows live on stage. Book your tickets now!