Paramount Theatre Seattle | Seattle, Washington
Everyone's favorite parodying prankster Weird Al Yankovic comes to Paramount Theatre Seattle on Saturday 17th August 2019! For the second night in a row, Yankovic will be performing as part of his Strings Attached Tour, which sees the four-time Grammy Award-winning comic and musician performing with a full symphony orchestra! Expect a larger-than-life show from a larger-than-life performer!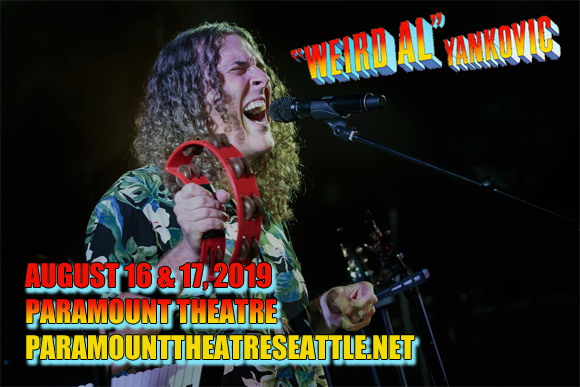 Starting out as a university DJ in the late 1970s, "Weird Al" Yankovic is an American comic singer-songwriter, film/record producer, satirist, and author. Since the release of his debut single "My Bologna" (a parody of "My Sharona" by The Knack), in 1979, Yankovic has recorded more than 150 parody and original songs, performed more than 1,000 live shows and has sold over 12 million albums. His parodies and pastiches of popular songs, often in a polka style and played on the accordion, have earned him four Grammy Awards from eleven nominations, and four gold records and six platinum records in the United States. His knack for uncanny scene-for-scene recreations in his parodied music videos aided in his success and led to Yankovic directing music videos for several other artists, including Ben Folds, Hanson, The Black Crowes, and The Presidents of the United States of America. His debut film, UHF, which wrote and he starred in, was released in 1989, and he also wrote and starred in The Weird Al Show (1997). After almost three decades in the industry, Yankovic scored his first top-ten single and album with "White & Nerdy" and Straight Outta Lynwood. His most recent release is 2014's Mandatory Fun, which became his first number-one album in its release week.