Paramount Theatre | Seattle, Washington
EVENT CANCELLED. Please contact your ticket point of purchase to claim a refund on your tickets.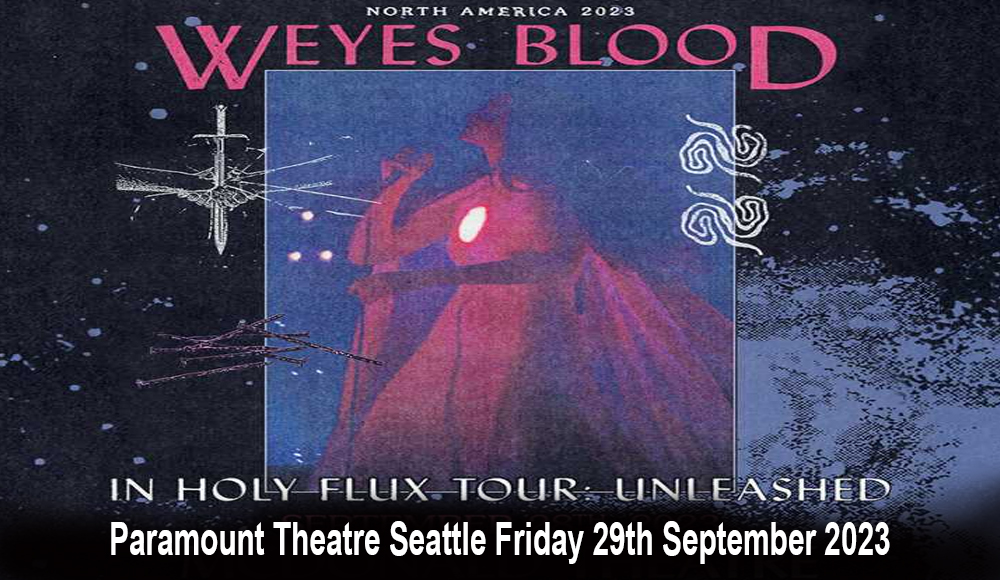 What one might regard as 'stuck in the past', Weyes Blood's music is an ode to time. With beautiful masterpieces across five albums that evoke auras from the '70s, her music serves justice to styles that transcend time. With her new album "And in the Darkness, Hearts Aglow" sending time machines back to glory days, she's extending her tour in support of her new craft. Weyes Blood is hitting the stage at Paramount Theatre Seattle on Friday, 29th of September 2023. With a record revolving around sinister themes with her singles, "It's Not Just Me, It's Everybody", "Grapevine", "God Turn Me into a Flower", and "Children of the Empire", the woman is set to deliver hair-raising performances on tour. From underground movements of noise music to experimental and past-inspired grooves, Weyes Blood is definitely a gem in a sea of pop stars. As she unleashes her 'In Holy Flux Tour' across North America, mark your spots at the show by booking your tickets now!
With sinister tunes carrying anxieties of the modern age, Natalie Mering, or Weyes Blood found her space in a sea of pop stars, offering tracks that detach from bright and colorful illusions by pondering on deep conversations through delicate melodies. Her newest record, "And in the Darkness, Hearts Aglow", ponders on life amidst lockdown and themes covering narcissism, detachment, and technocracy. Through an intimate record that resonates deep feelings, Weyes Blood's unique artistry won her massive acclaim. "Has a time ever been more revealing that the people are hurting?" she asks in her opening track "It's Not Just Me, It's Everybody".
Navigating pain in search of human connection and purpose, Weyes Blood's newest masterpiece received acclaim from critics, fans, and new listeners. The record was listed as one of FT's best for 2022. With sinister and honest lyrical melodies exuding elements from the '70s, "I was never trying to specifically emulate the '70s, but I was influenced by the same things they were — folk, classical and Tin Pan Alley," she shared with the Financial Times. "I like [my music] to feel like a time machine to a place in the future which also feels very familiar."
As Weyes Blood serves "And in the Darkness, Hearts Aglow" live on stage, the singer just unleashed extended tour dates for the North American leg of her 'In Holy Flux Tour'. She never fails to deliver intense live renditions of her '70s soft rock attitude and musical talent. Serving edgy charisma and lush vocals, Weyes Blood's live shows are one heck of an experience you can't miss out on!
Though her songs often tackle deep and heavy feelings relating to detachment and sad conversations, Weyes Blood makes sure to serve a little bit of hope by throwing in some jokes and uplifting conversations with her fans. "My songs are kind of sad but I'll make a lot of jokes during the show to keep it intimate and make sure that it doesn't seem too pretentious," she told Financial Times.
Currently on tour across Europe and hopping to North America, the singer hints that her next album will center on hope, explaining that anything that dies or passes, repurpose comes with hope, finding new things when one rises from pain.
Serving her 'heart aglow' live on stage, she pleads to society using her sad songs that hope to communicate messages about humanity's struggles. All alike, we have 'hearts aglow' in us.
Don't miss out on the In Holy Flux Tour: Unleashed live at Paramount Theatre Seattle on September 29th by booking those tickets now!