Emerging onto Broadway in 1966 and kicking up enough of a storm at the time, the 1998 return of Cabaret captivated and devastated audiences and critics alike, sweeping up 4 Tony Awards, having been nominated for no less than 10. Loud, brash, thought-provoking and unapologetically depressing, Cabaret is this year's most important must-see musical!
Cabaret Broadway Tickets: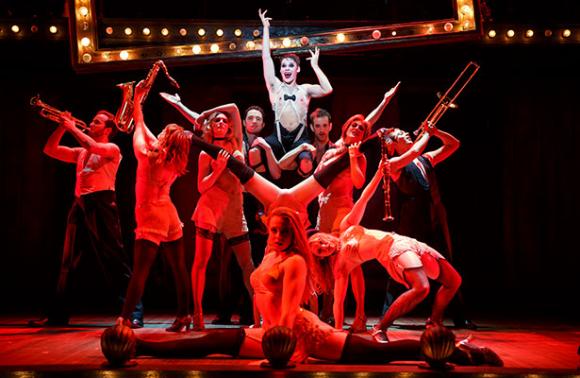 The show's title is mournful, as the musical bypasses the surface of the lipsticked, glamour-and-glitter, over-the-top costumery and performance, plunging us straight into the seedy underbelly of the Kit Kat Club and all the darkness and despair that goes along with it. After the intro (the provocative, confident "Wilcommen," sung by the Emcee, the club's master of ceremonies and a narrator of sorts), the musical soon reveals a dark and deeply politically charged plot; the story of the doomed romance of the characters Cliff Bradshaw, a novelist, and nightclub singer Sally Bowles, in 1930's Nazi Germany.
"A devastatingly relevant work of art"
– Houston Chronicle
Touching upon issues of sexuality, gender and discrimination, Cabaret paints a bleak picture of the world through surprisingly upbeat music, costume, and choreography. The contradiction, perhaps, is what makes the show so compelling – the character's outlandish, extravagant, in-your-face performance is accompanied by a wry self-awareness of their own plight. Uncomfortable and at times unpalatable, with its bold, no-holds-barred examination of hedonism, consumerism, and ruthless self-interest, the musical's message rings only too true. Never before have the politics of such a show been more relevant to a modern audience… so get your tickets to see John Kander and Fred Ebb's musical masterpiece now for an experience that will truly stay with you for ever.