Paramount Theatre Seattle | Seattle, Washington
DPR's 2022 Regime World Tour is finally happening! Catch the boys DPR+IAN, DPR CREAM, and DPR LIVE hit the stage at Paramount Theatre Seattle on Wednesday, October 5th, 2022. The boys are set to heat the stage up as they perform their fiery hot tracks as fans cheer and sing their hearts out back to the boys. In 2020, they dropped their trio album "DPR ARCHIVES" featuring their hot tracks "thirst", "zombie pop", and "eyes of cream". Don't miss out on the collective's trio throwing big surprises at The Regime World Tour by booking your tickets now!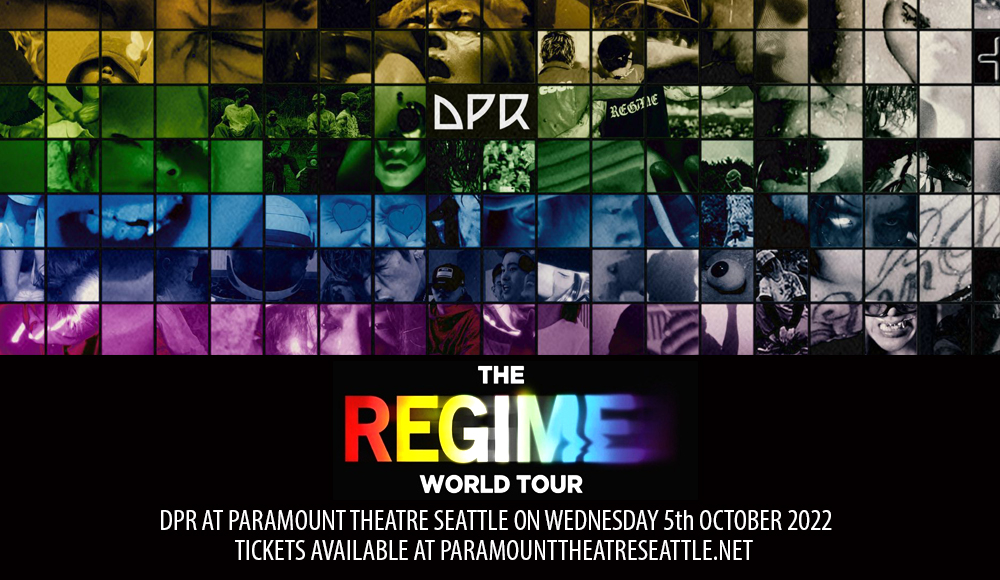 DPR which stands for "Dream Perfect Regime" is "a fully independent entertainment label, reduced down to just a group of friends," rooted in South Korea. The boys who make up DPR – +IAN, REM, LIVE, CREAM, and Cline all together write, produce, and direct their own musical and visual crafts. As a group of friends, they've come to conquer and produce quality and sick beats that fans have come to love.
DPR is kicking off The Regime World Tour where DPR LIVE, DPR IAN, and DPR CREAM are set to perform on the tour.
DPR LIVE and DPR IAN were recently part of Shang-Chi and The Legend of The Ten Rings' official soundtrack with the song "Diamonds + and Pearls". They also teamed up with CL in 88rising's Head In The Clouds 2021.
DPR IAN also just announced his upcoming album "Moodswings In To Order" or "M II TO" with 8 tracks coming out on July 29th.
With the tour right around the corner, DPR REM shared on Twitter, "I fucking fought for this… for months yall… YALL BETTER SHOW OUT!", he shared. DPR REM is DPR's creative director and executive producer.
'Coming to you live', DPR LIVE, or Hong Dabin, is the collective's signature rapper and singer who's dropped three EPs and a debut album with DPR. Some of his notable tracks are "Jasmine", "Martini Blue", "Text Me", and "Kiss Me".
DPR IAN, or Christian Yu is DPR's founder, director, and chief editor. Fans may have known him from C-Clown as Rome prior to their disbandment in 2015. The Korean-Australian rapper, songwriter, and director dropped his solo debut in October 2020 with his single "So Beautiful". In 2021 he released his debut EP "Moodswings In This Order", and is dropping his first album "Moodswings In To Order" on July 29th.
DPR CREAM, or Kim Hyung-mo, is the collective's main musical producer who produced a majority of tracks for DPR LIVE's debut album, "Coming to you Live". The man also sings and raps really well, exemplified by his single "Color Drive".
Together, they're 'coming to you live', set to heat up the stage and drop mesmerizing performances, vocals, visuals, and beats at The Regime World Tour. Book your tickets now!